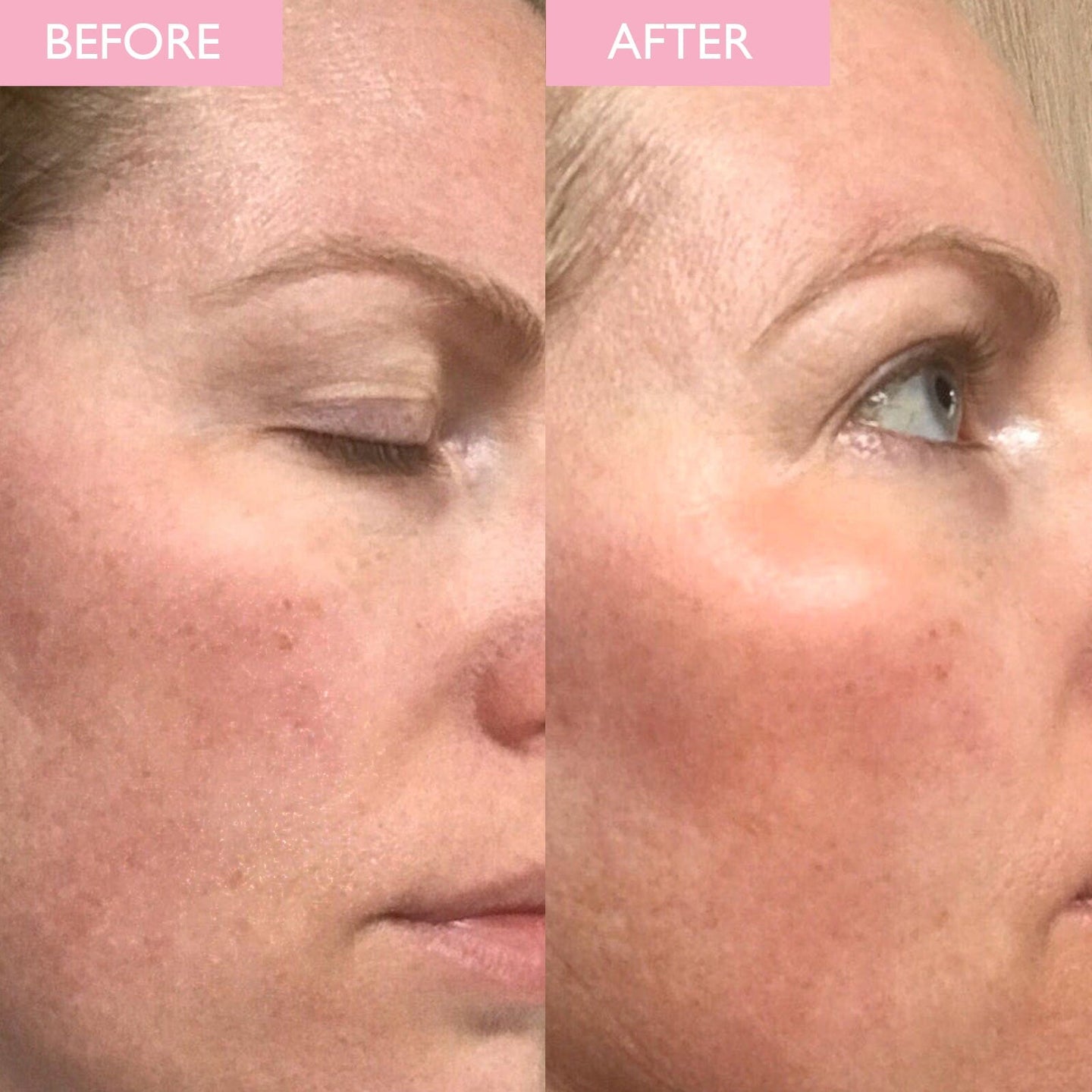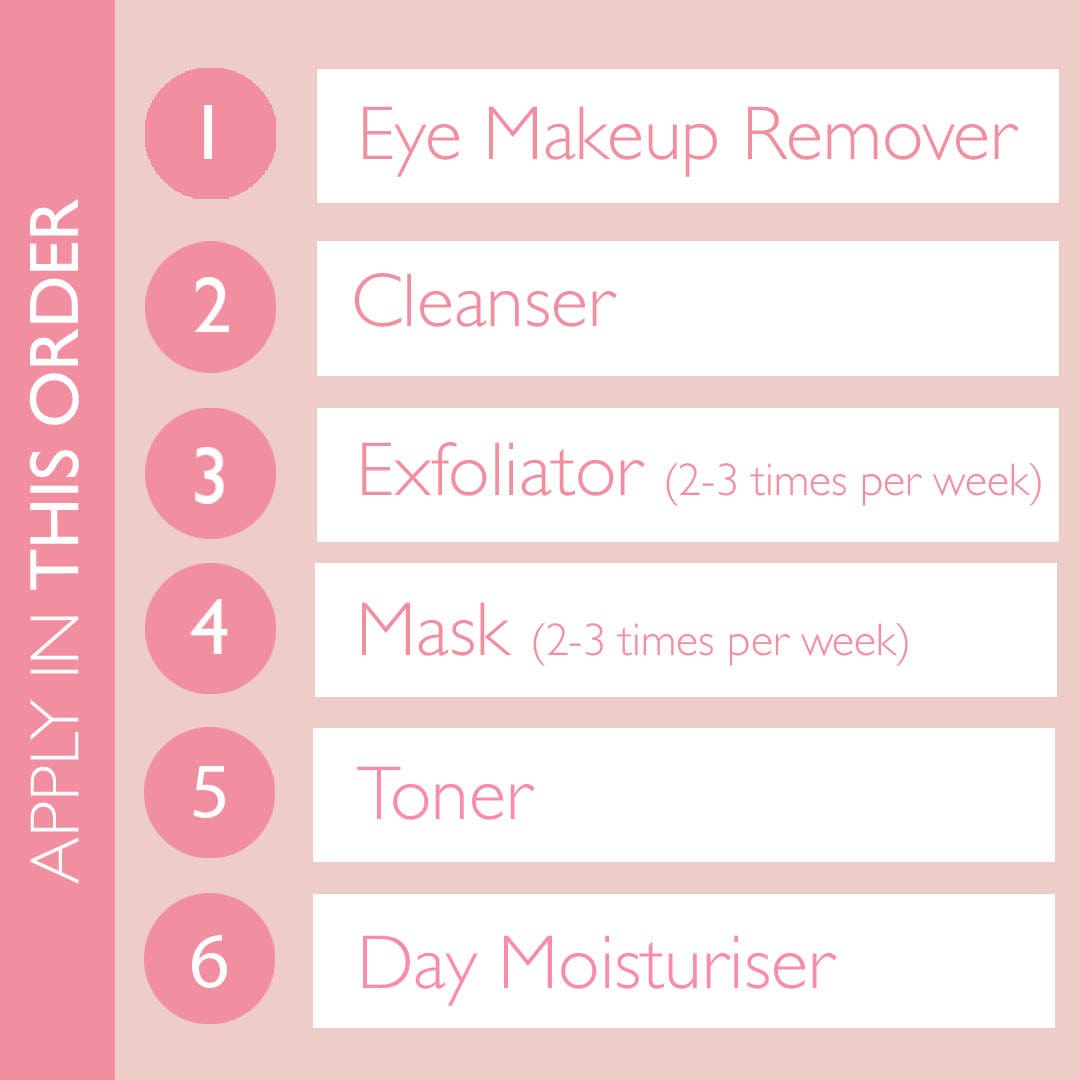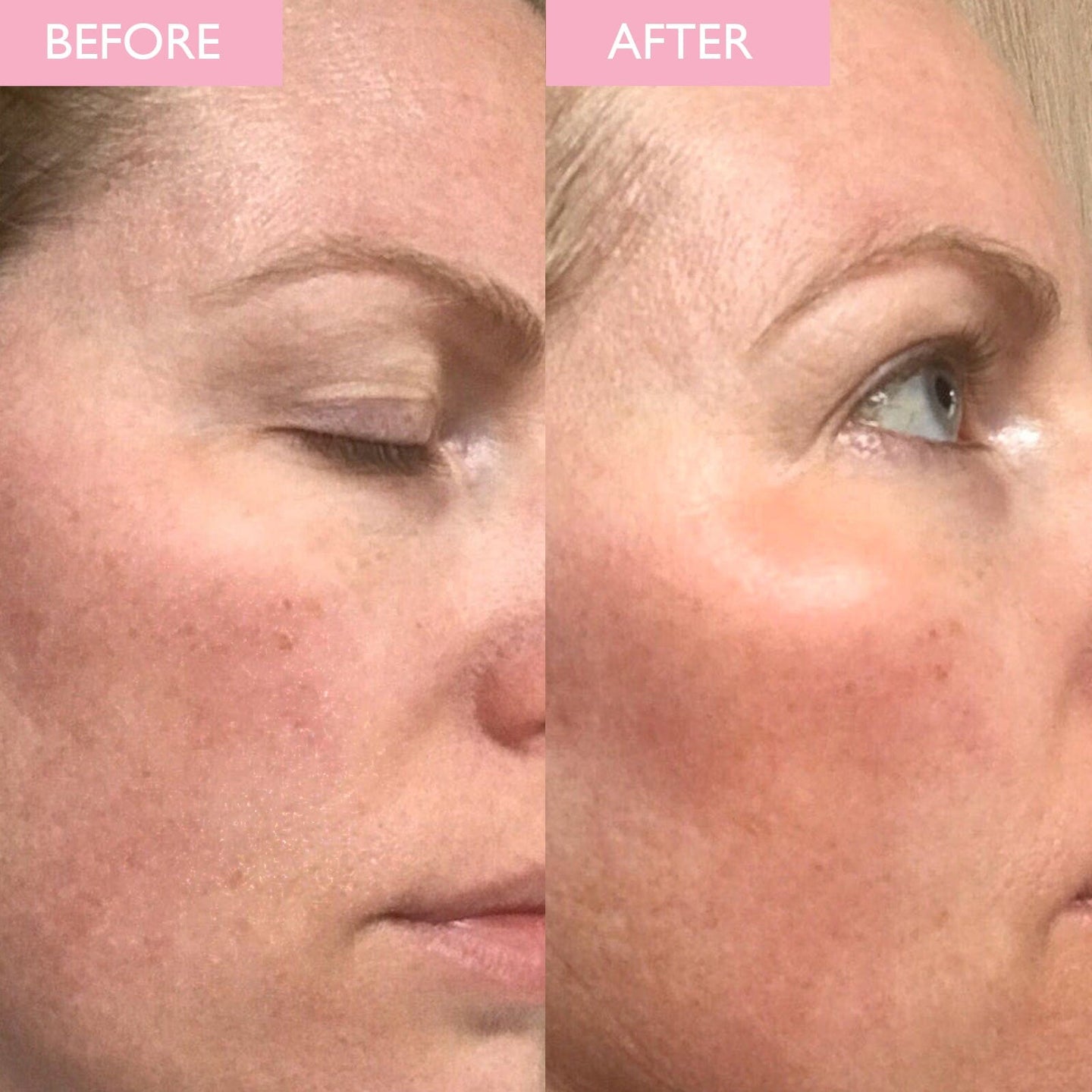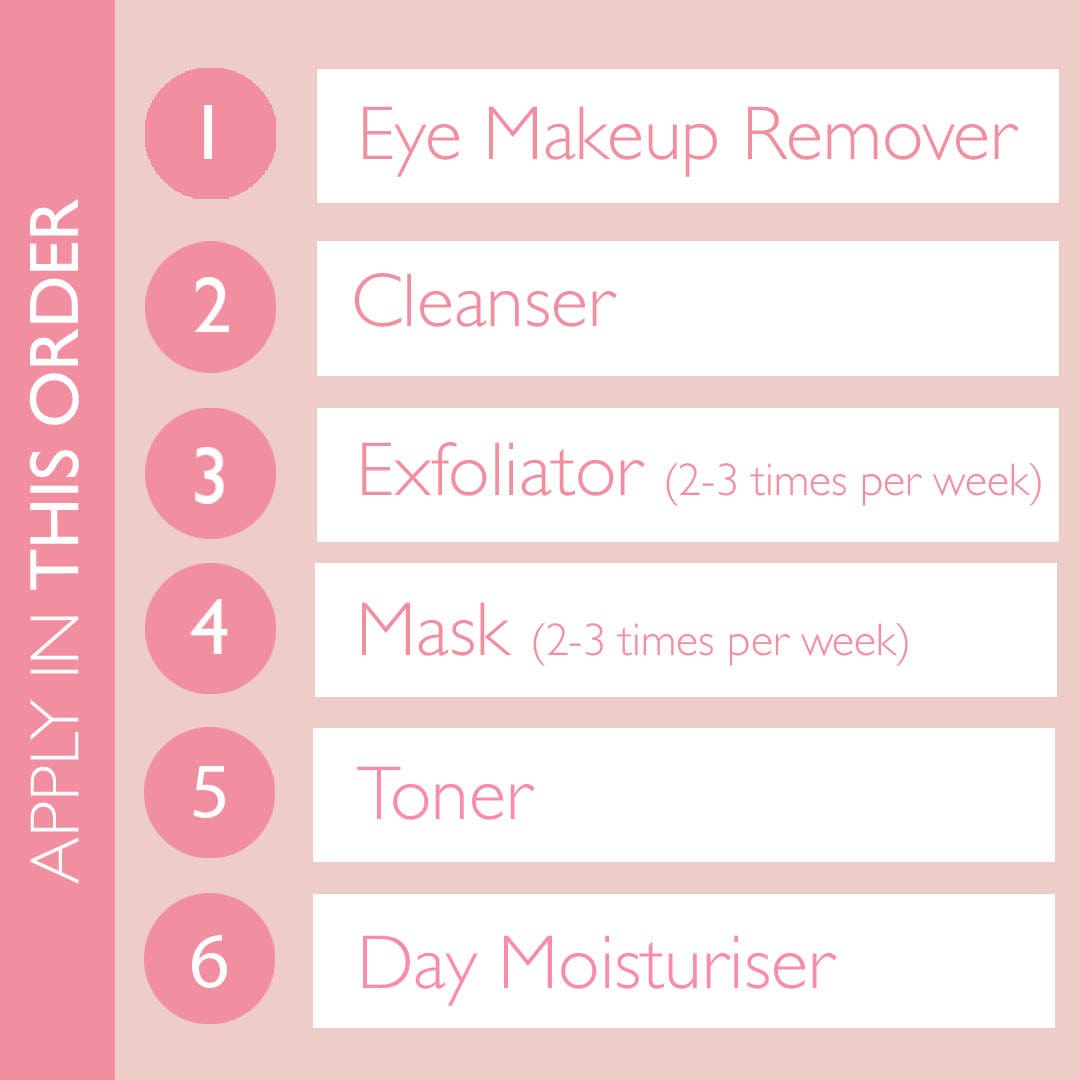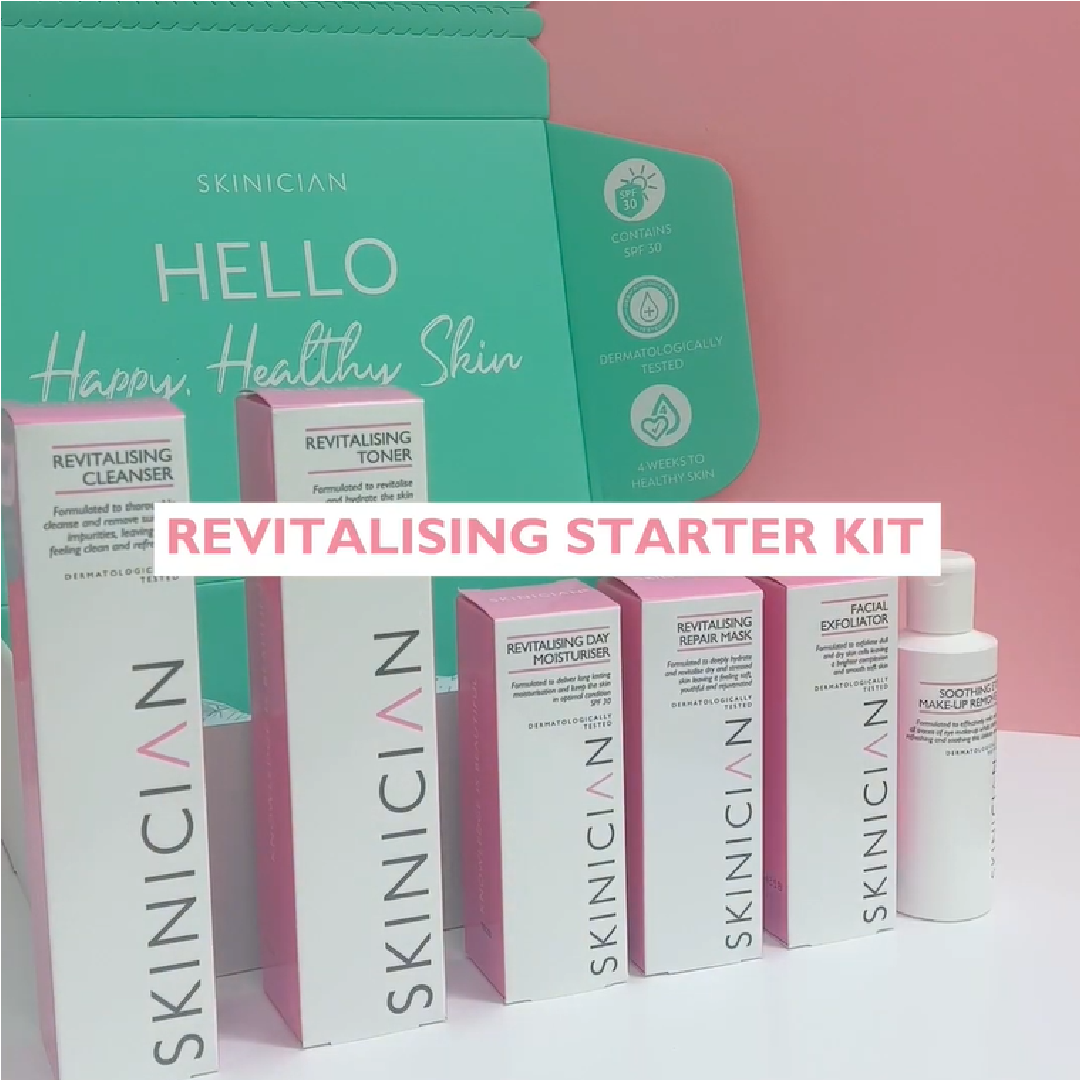 Revitalising Starter Kit
Regular price
£104.00 GBP
Regular price
£122.50 GBP
Sale price
£104.00 GBP
Unit price
per
Save
Sold out
The perfect way to get started with the SKINICIAN Revitalising System. Formulated for normal, dry and sensitive skin, the Revitalising System calms, soothes and protects delicate skin while reducing inflammation and dryness. 
Skin concerns: dehydrated skin, dry skin, sensitive skin, balanced skin (normal)
Inside each bundle you'll get:
Revitalising Cleanser
Revitalising Toner
Soothing Eye Makeup Remover
Facial Exfoliator
Revitalising Repair Mask
Revitalising Day Moisturiser SPF 30
Who is it best for?
These products have been specially formulated with those who suffer from sensitivity, dry skin or normal balanced skin types. Using ingredients such as calming Chamomile to soothe inflamed skin and Shea Butter to provide hydration and radiance, after using the Revitalising Starter Kit, skin will feel smooth whilst looking radiant.

How to use the Revitalising Starter Kit for best results?
We know for those with sensitive skin how important a gentle yet effective cleanser is, so that is why we have developed a soothing milk cleanser that thoroughly cleanses without drying out the skin. We have also developed a Soothing Eye Make-up Remover, a cool and refreshing eye makeup remover that effortlessly removes all traces of eye makeup for cooled, cleansed and hydrated eyes without causing irritation.]

Toner is a really important step for those with sensitive skin and we have formulated our Toner with skin nourishing ingredients such as Sodium PCA to increase skin moisture retention and Vitamin C to brighten whilst protecting against free radicals. Our spray toner infused with Cucumber to soothe and brighten skin, helps to increase skin hydration and soothe skin sensitivity.

To lock in moisture, hydrate and protect the skin, apply our Revitalising Day Moisturiser with SPF30. A deeply hydrating daily moisturiser with broad-spectrum sun protection that relieves dryness and soothes skin sensitivity. Formulated with Botanical Beta Glucans, which is proven to be as effective as Hyaluronic Acid at holding moisture in the skin, this product helps to increase skin softness and hydration by up to 25%.

In this kit, we have also included our Facial Exfoliator, a gentle yet powerful facial exfoliator formulated with marine-friendly biodegradable micro particles to remove the build-up of dead skin cells. This scrub is gentle enough for even the most sensitive skin types, and it leaves skin feeling smoother and looking radiant. We recommend that sensitive skin types use this no more than 1-2 times per week to ensure the skin barrier doesn't become damaged.

A lovely way to soothe skin after exfoliation is to apply the Revitalising Repair Mask, a creamy face mask formulated to repair damage, reduce inflammation, calm and restore radiance. Perfect for those who's skin needs a boost of hydration whilst soothing sensitivity and redness, keeping the skin barrier calm and repaired.

Read more about our sustainability pledge
Key ingredients:

Chamomile & Green Tea
Antioxidants that protect the skin from environmental damage. Their anti-inflammatory properties also calm, soothe and reduce redness

Shea Butter
Calms, soothes and promotes healing of the skin while providing hydration to restore radiance

Botanical Beta-Gucans
Proven to be as effective as hyaluronic acid at holding moisture in the skin. Increases skin softness by up to 21% and hydration by up to 25%

Sodium PCA
Highly effective at increasing skin moisture retention 

Vitamin C
Clinically proven to reduce skin damage caused by sun exposure and reduce pigmentation by 77% 
How long should I use the Revitalising Starter Kit before seeing results?
We recommend using skincare products 6-8 weeks to see visible results, although skin will feel smoother and more hydrated in the first couple of uses.

Are there any other products I should be using alongside the Revitalising Starter Kit?
Depending on your skin concern, we so have other products that we recommend using alongside this kit.

For those concerned with dull, lacklustre skin, try our Vitamin C Elixir to nourish, protect and leave skin glowing.

For those concerned with the signs of ageing and have sensitive skin, why not look at our Firming Serum. Packed full of skin plumping and hydrating ingredients to leave skin feeling firmer and fine lines visibly reduced.
Soothing Eye Makeup Remover
Apply to a cotton pad and hold gently over the lashes for a few seconds to loosen makeup. Gently sweep over the lids, eyebrows and lashes.

Revitalising Cleanser
Using damp hands apply to the face and neck. Massage over the skin. Rinse and repeat for a double cleanse.

Revitalising Toner
After cleansing, spritz a few times across the face in an arc shape.

Revitalising Day Moisturiser SPF 30
Use daily, in the morning, after cleansing and toning. Allow 5 minutes before applying makeup.

Facial Exfoliator


Wet your face with lukewarm water and apply to face and neck. Massage gently in circular movements paying particular attention to the forehead, nose and chin. Rinse. Use two to three times a week and follow with a mask to rehydrate and nourish the skin.

Revitalising Repair Mask
Apply a generous amount to your face and neck in an upward direction, avoiding the eye area. Once evenly applied leave for 10 – 15 minutes. Rinse. Use two to three times a week ideally after exfoliation.

Want to learn more? Check out our AM PM Skincare Routine page.
Country
Delivery Information
UK & NI
Eco option - £3.95 (3-5 working days)
FREE on orders over £40
Priority - £4.95 (1-2 working days)
Republic of Ireland

€6.20 (1-2 working days)




FREE on orders over €40

Europe

£7.95 (7-10 working days)




FREE on orders over £100

Rest of World
£15 (15-20 working days)
FREE on orders over £150