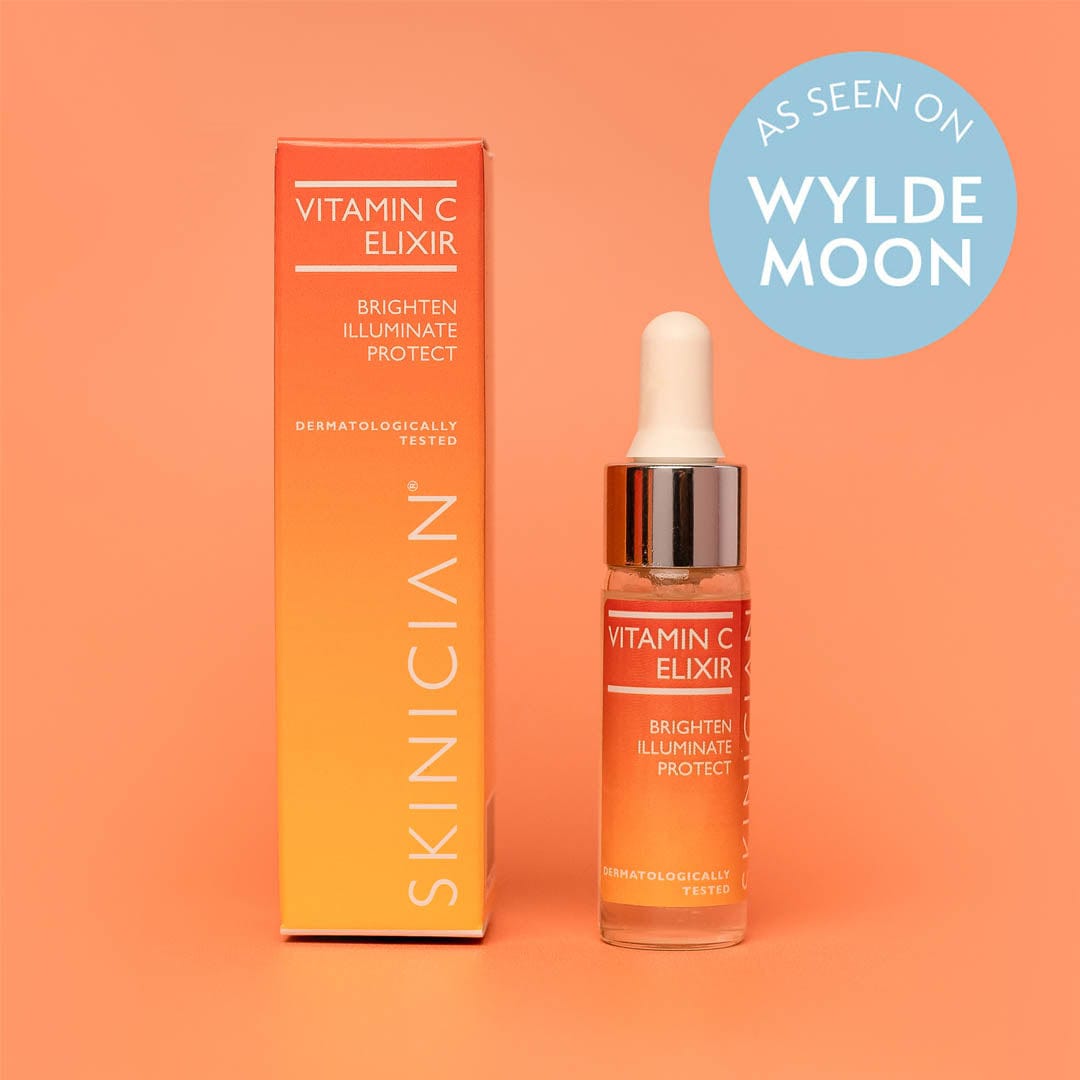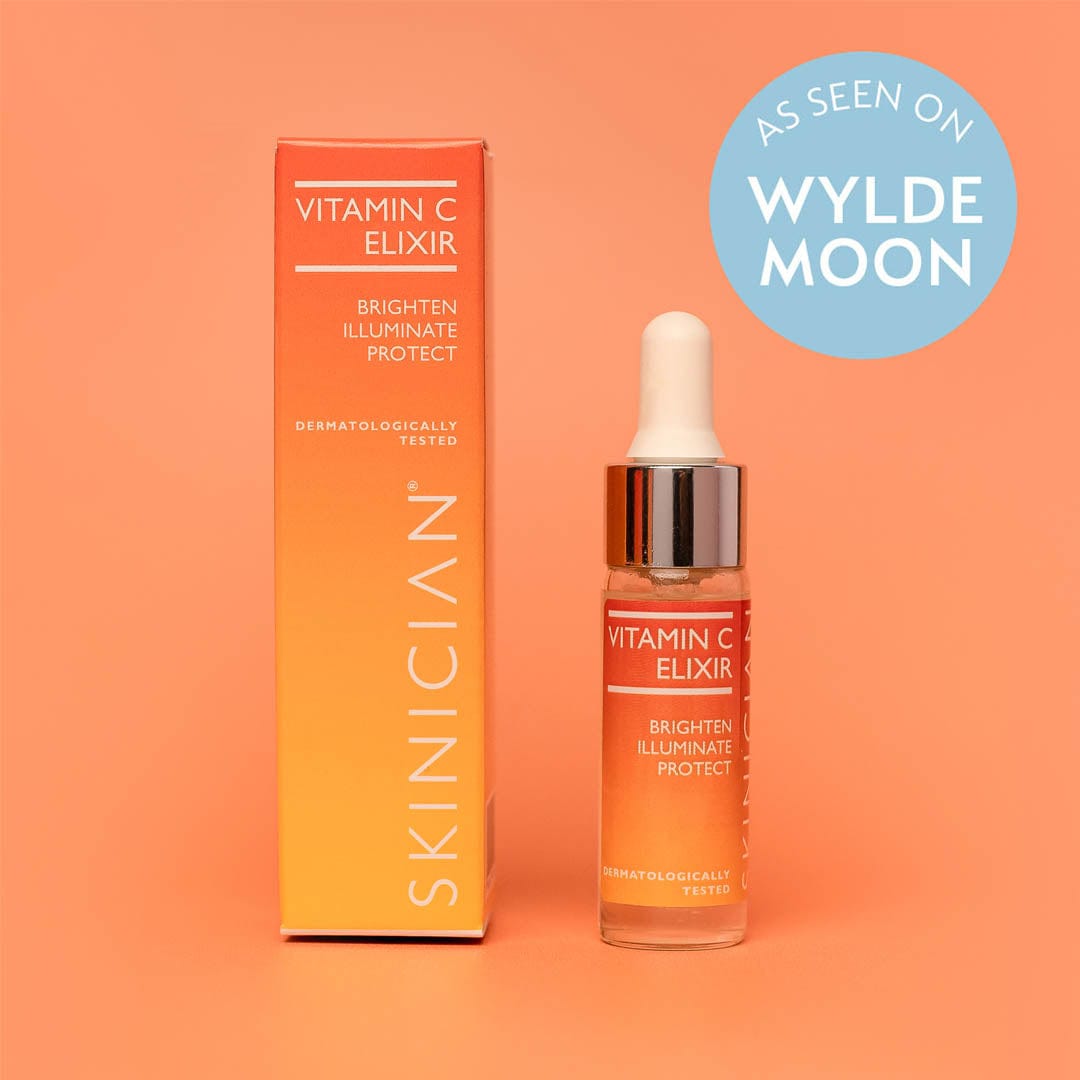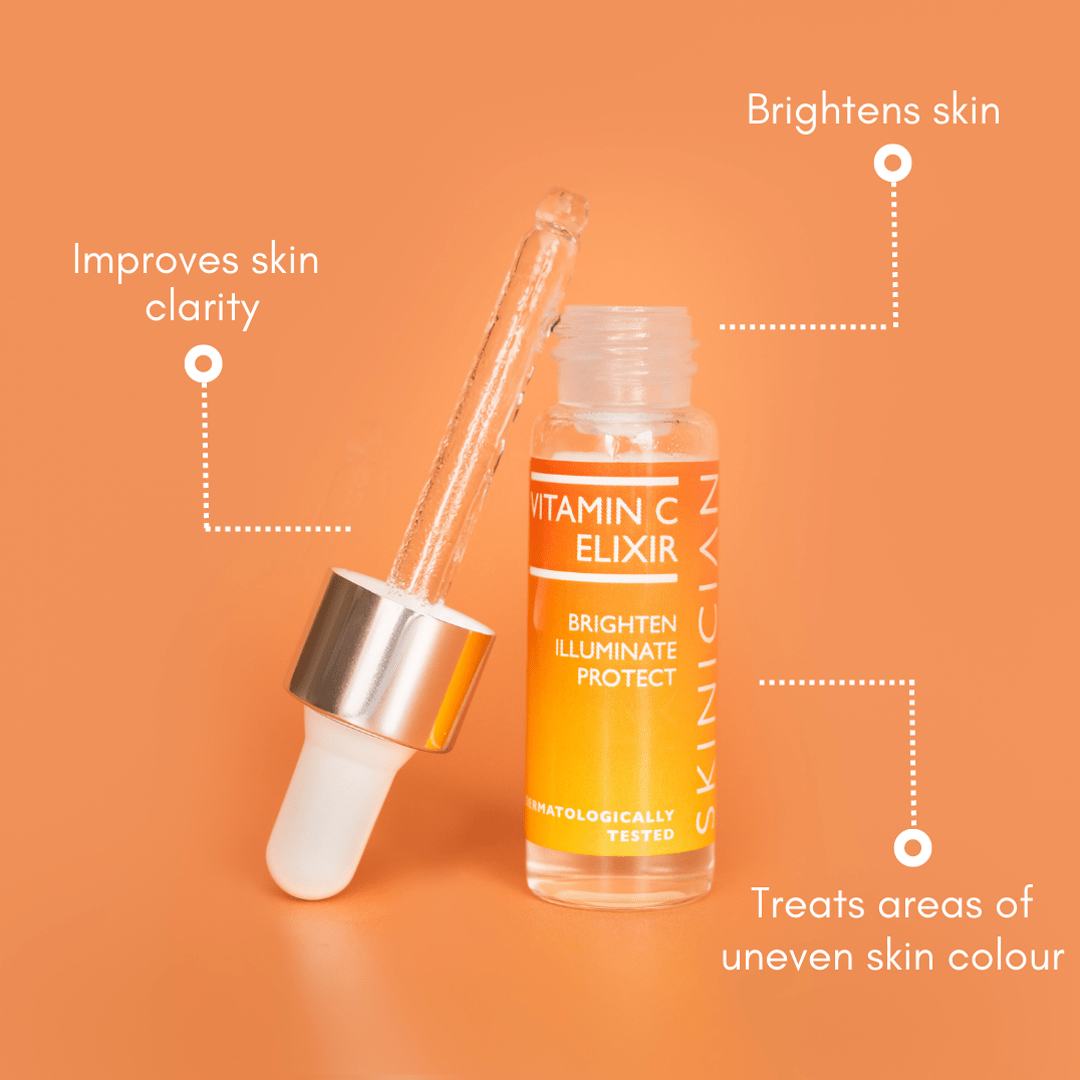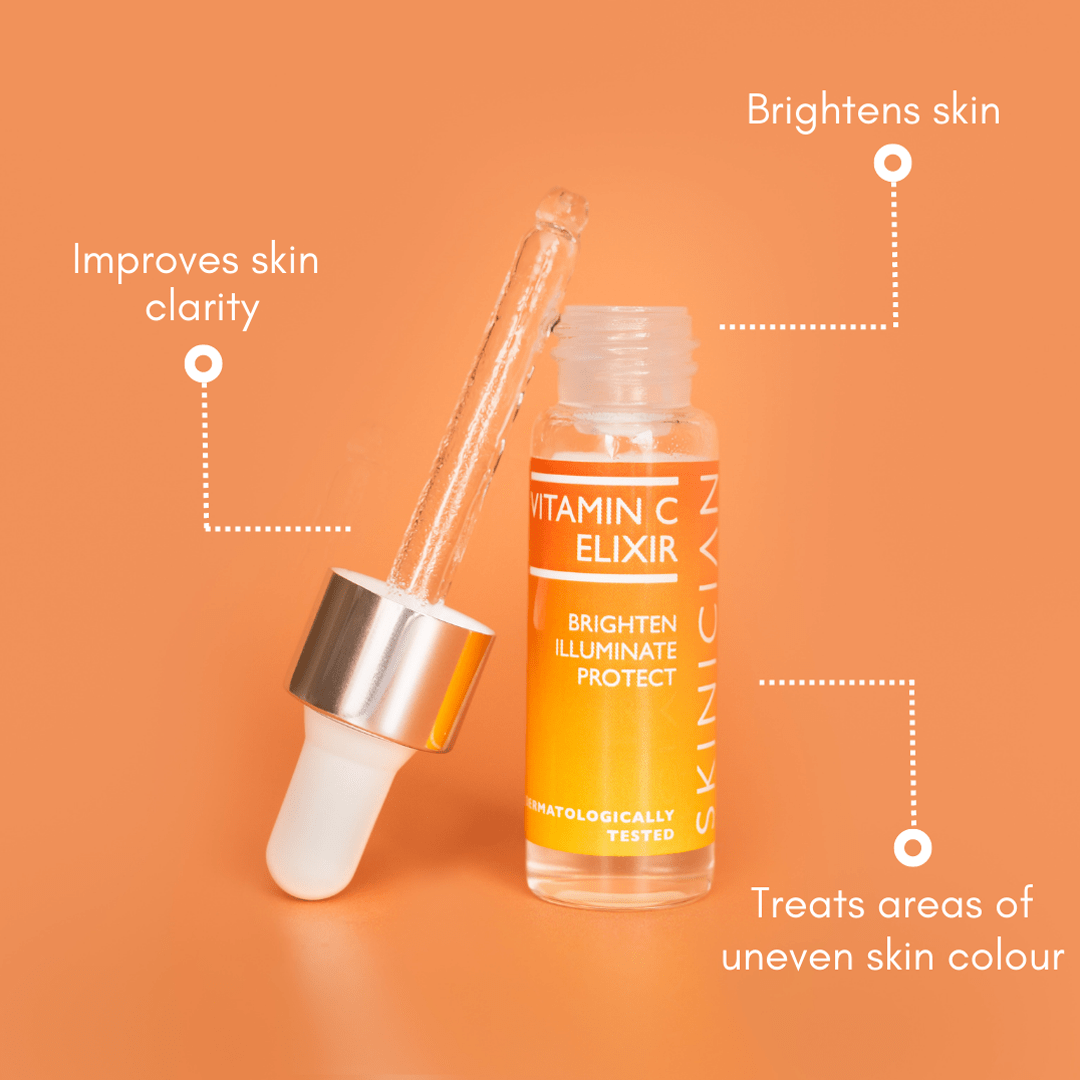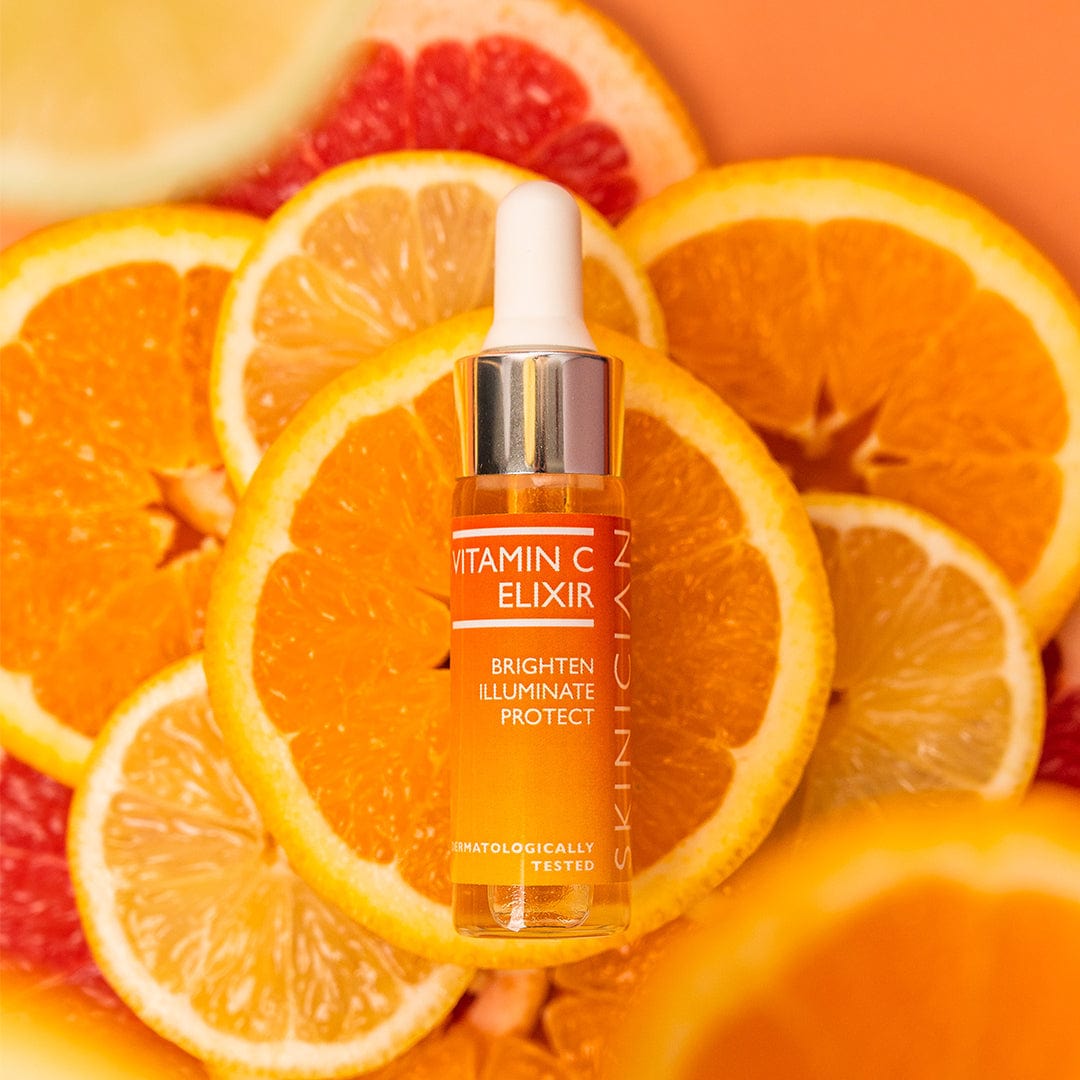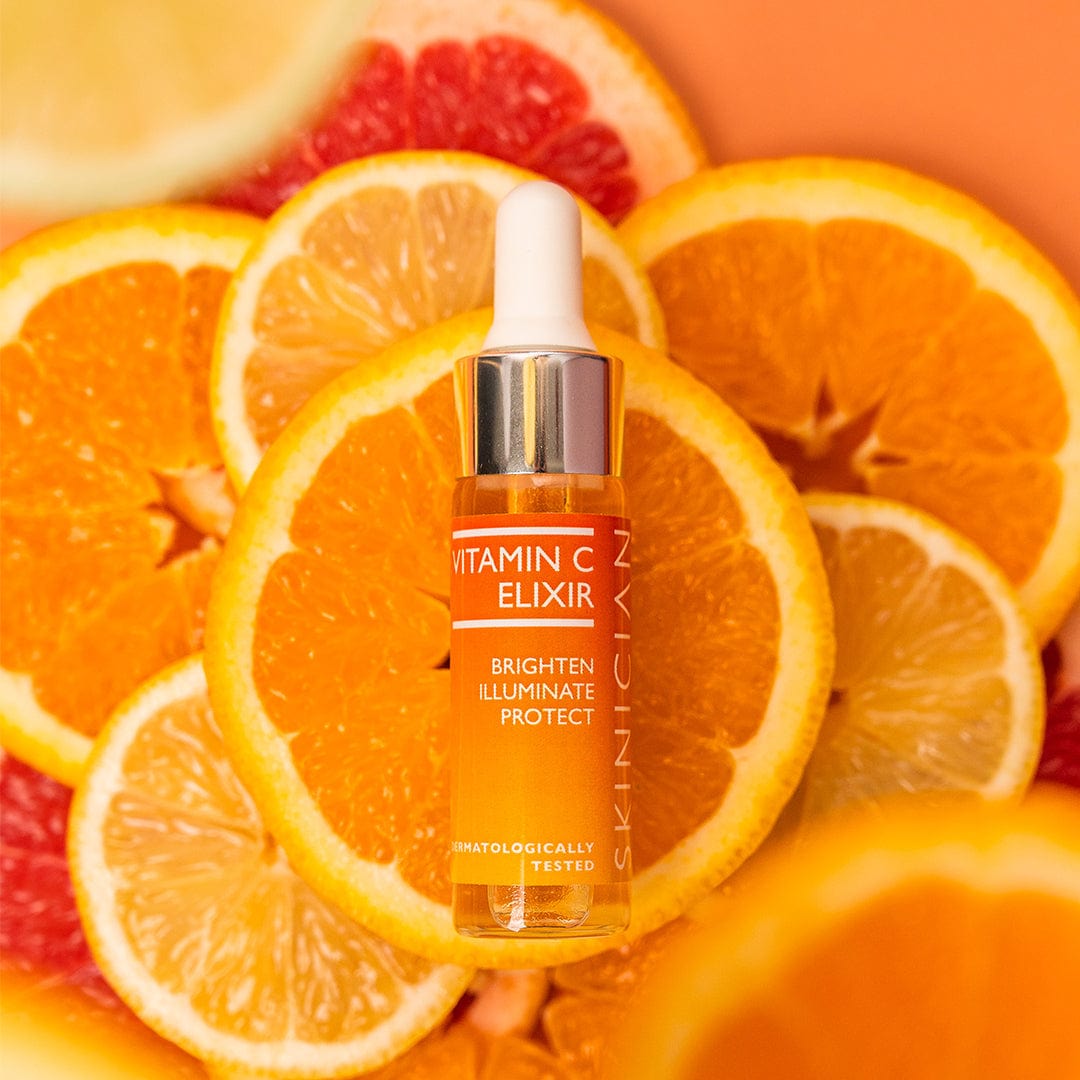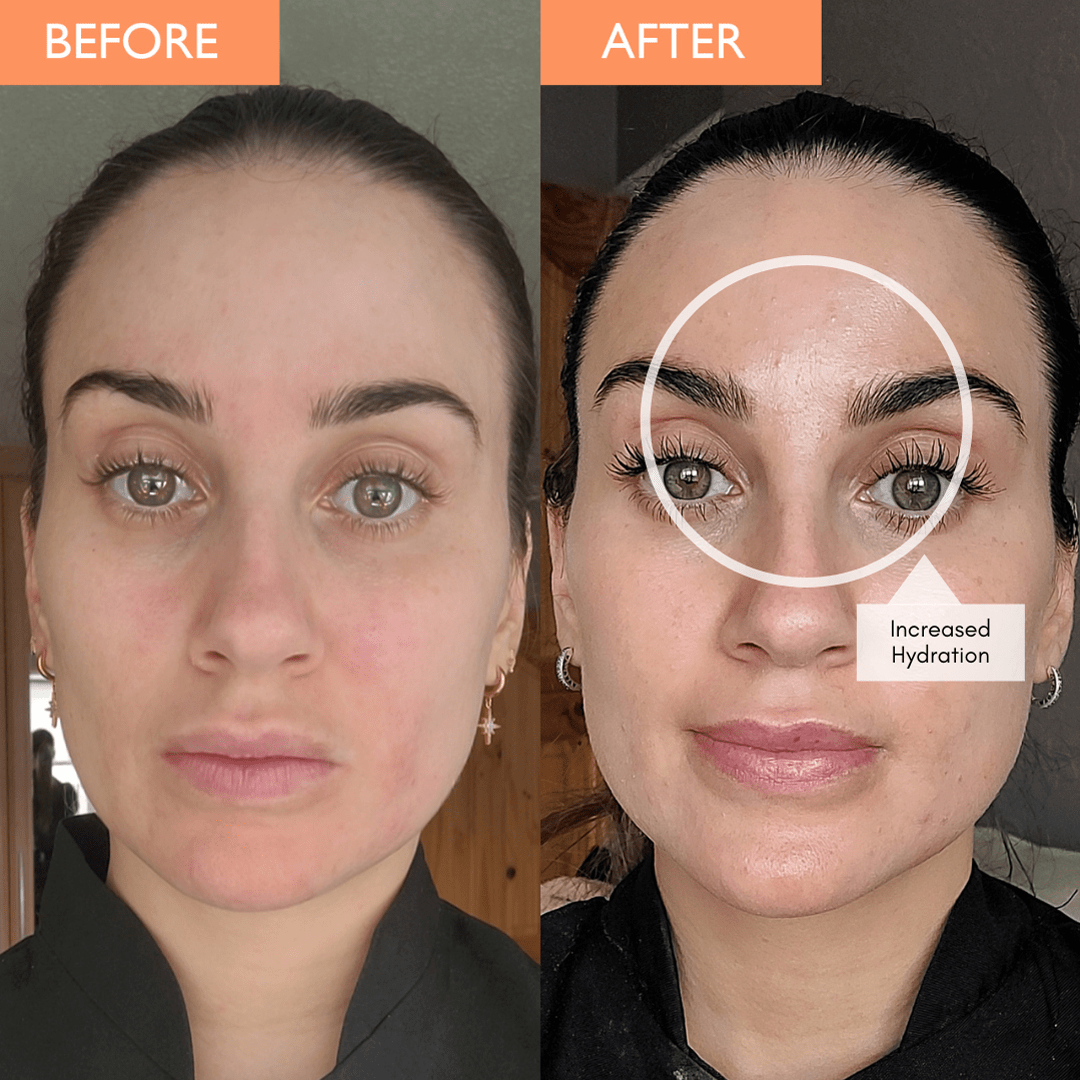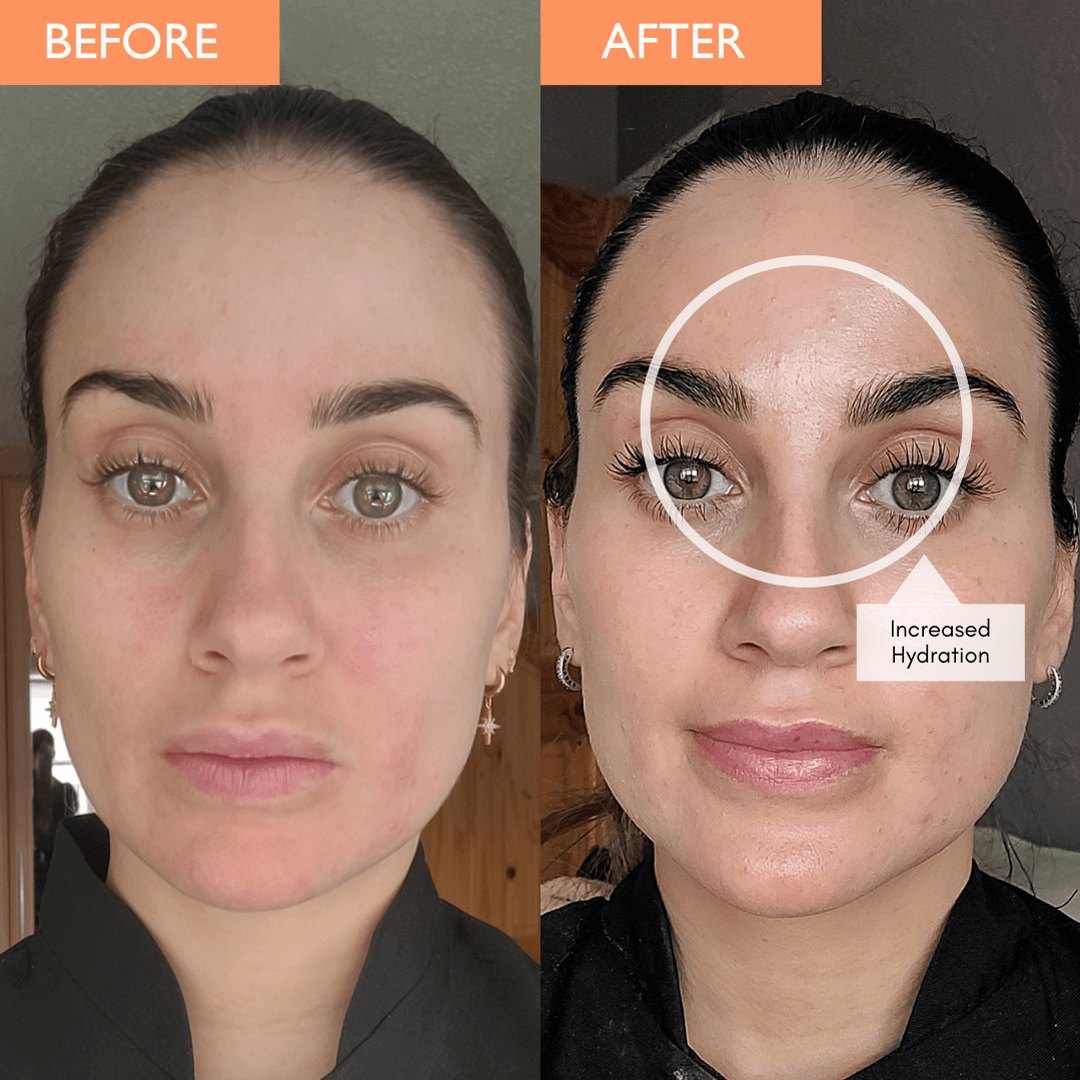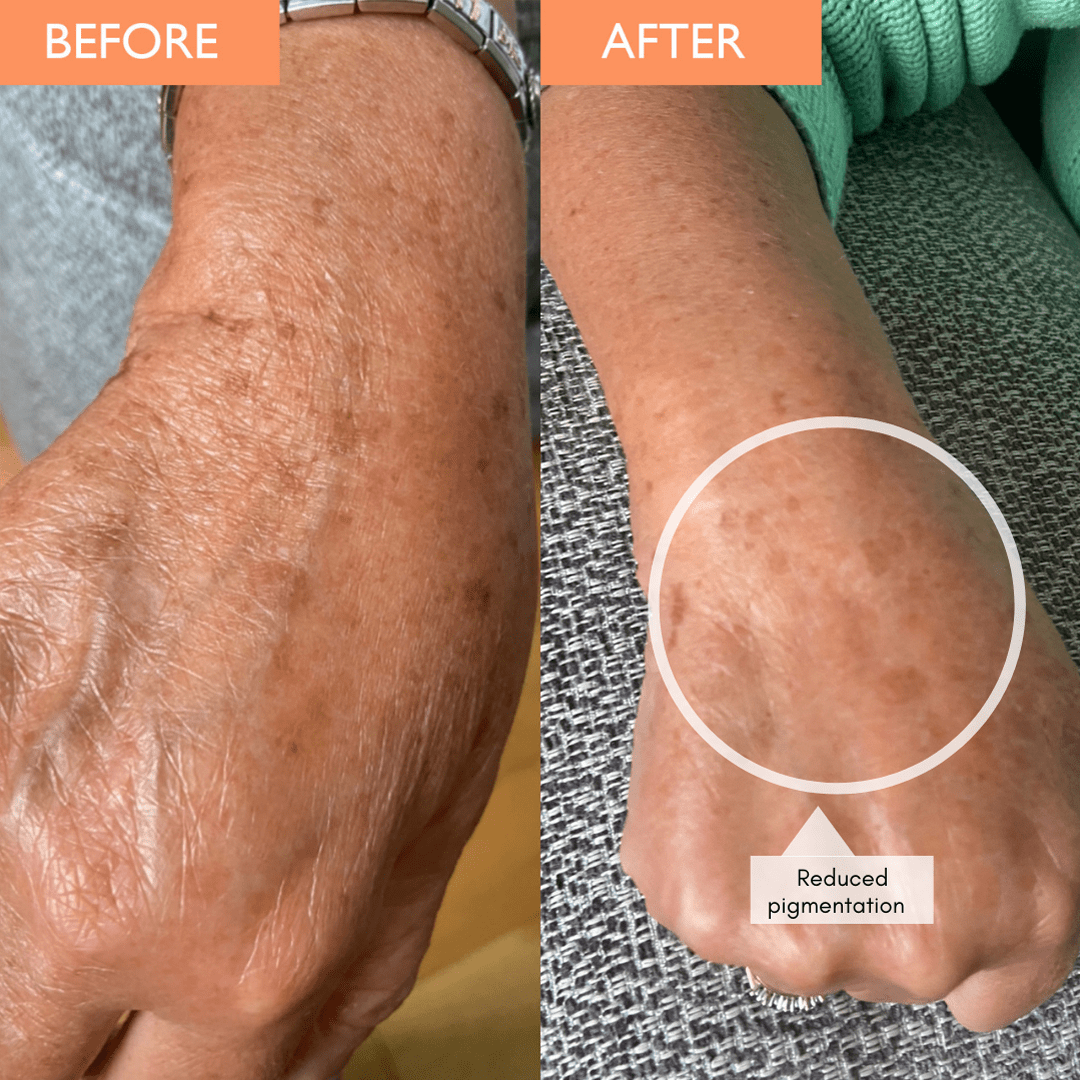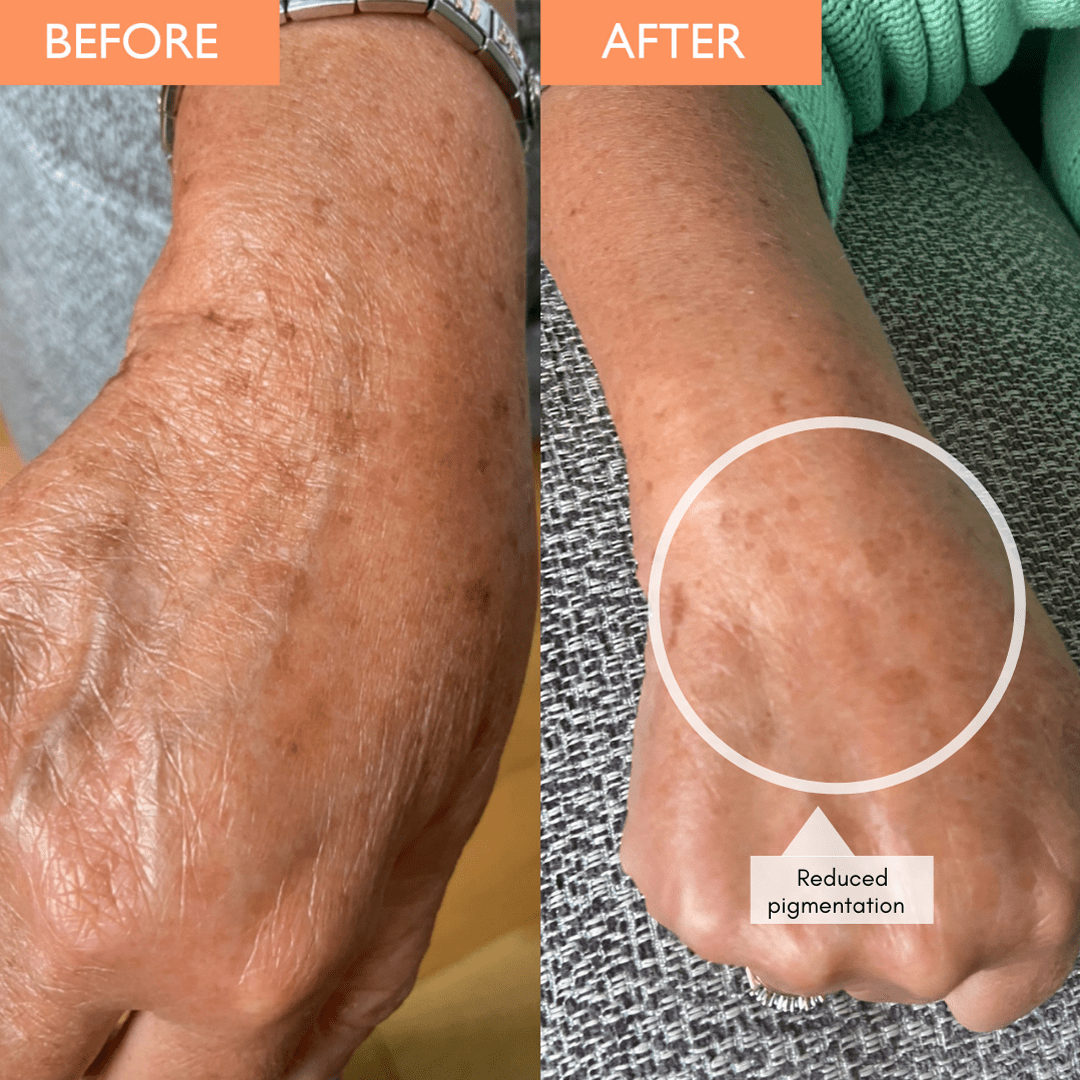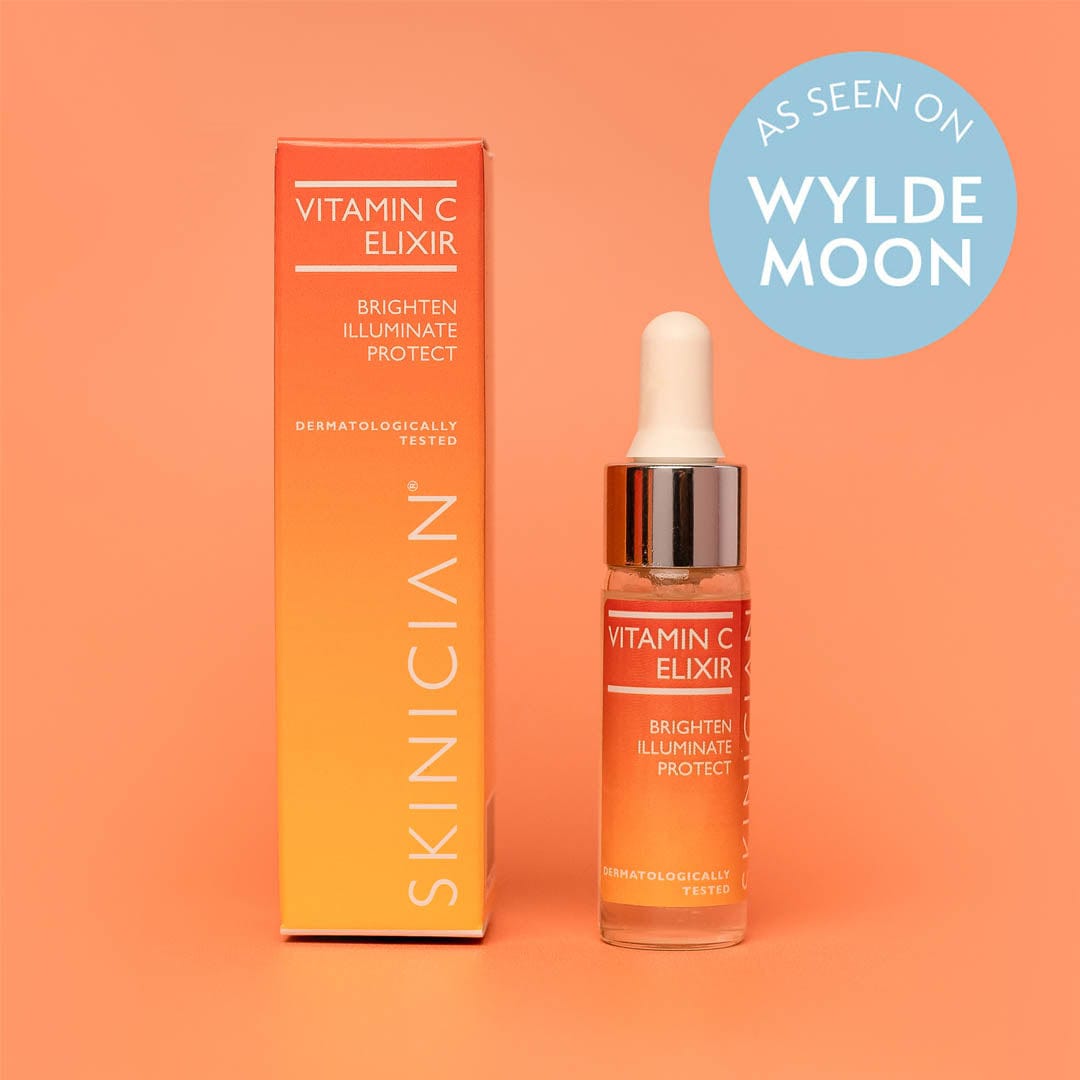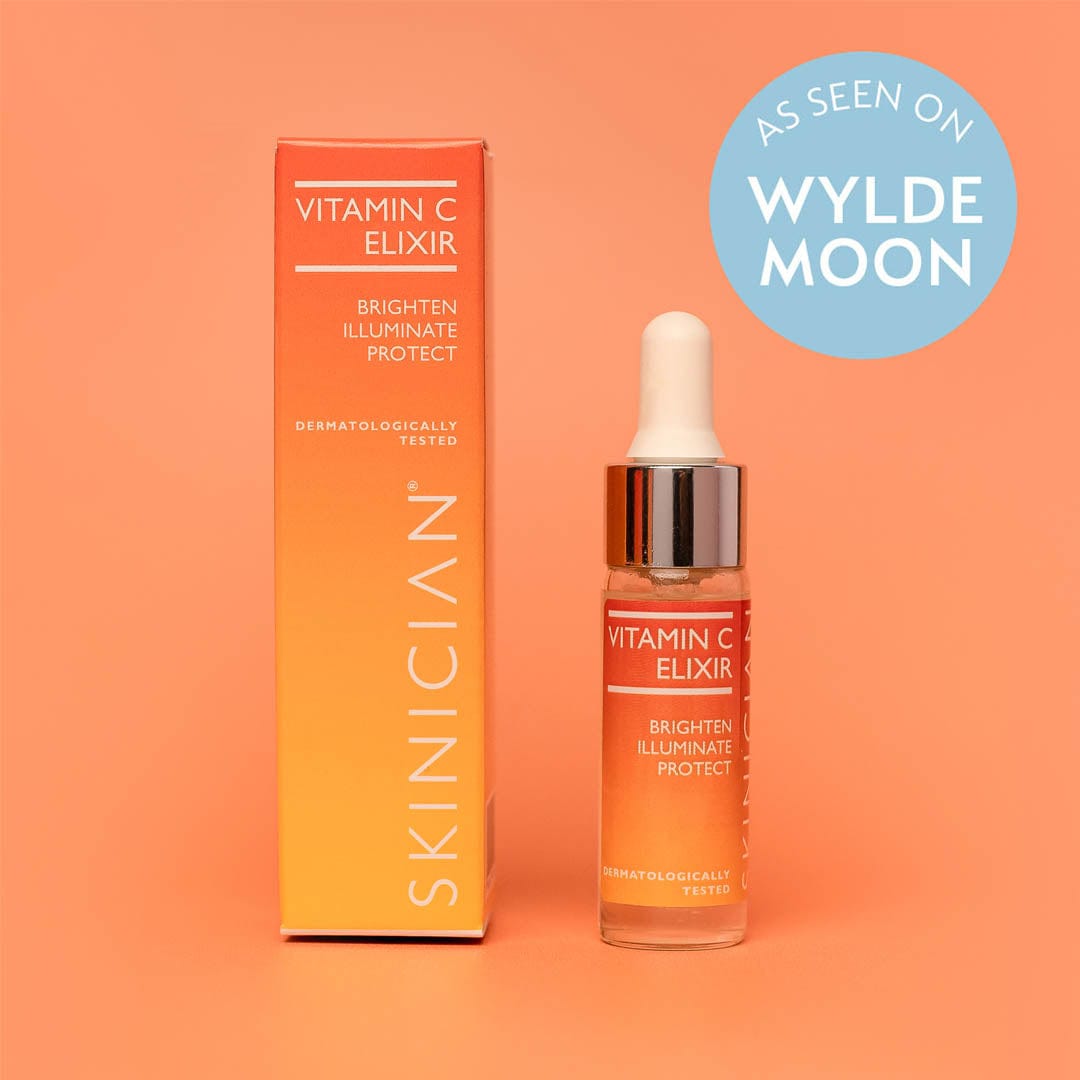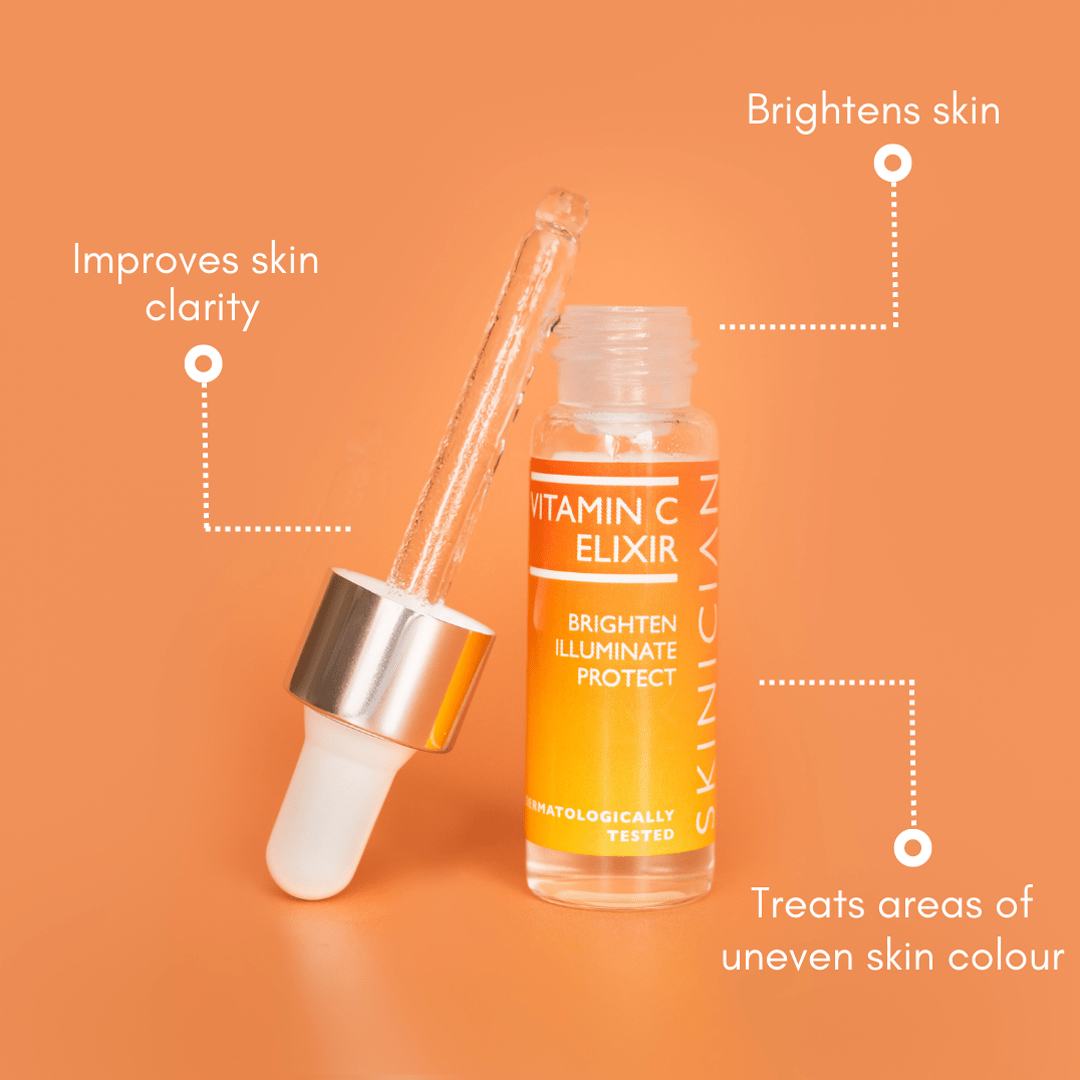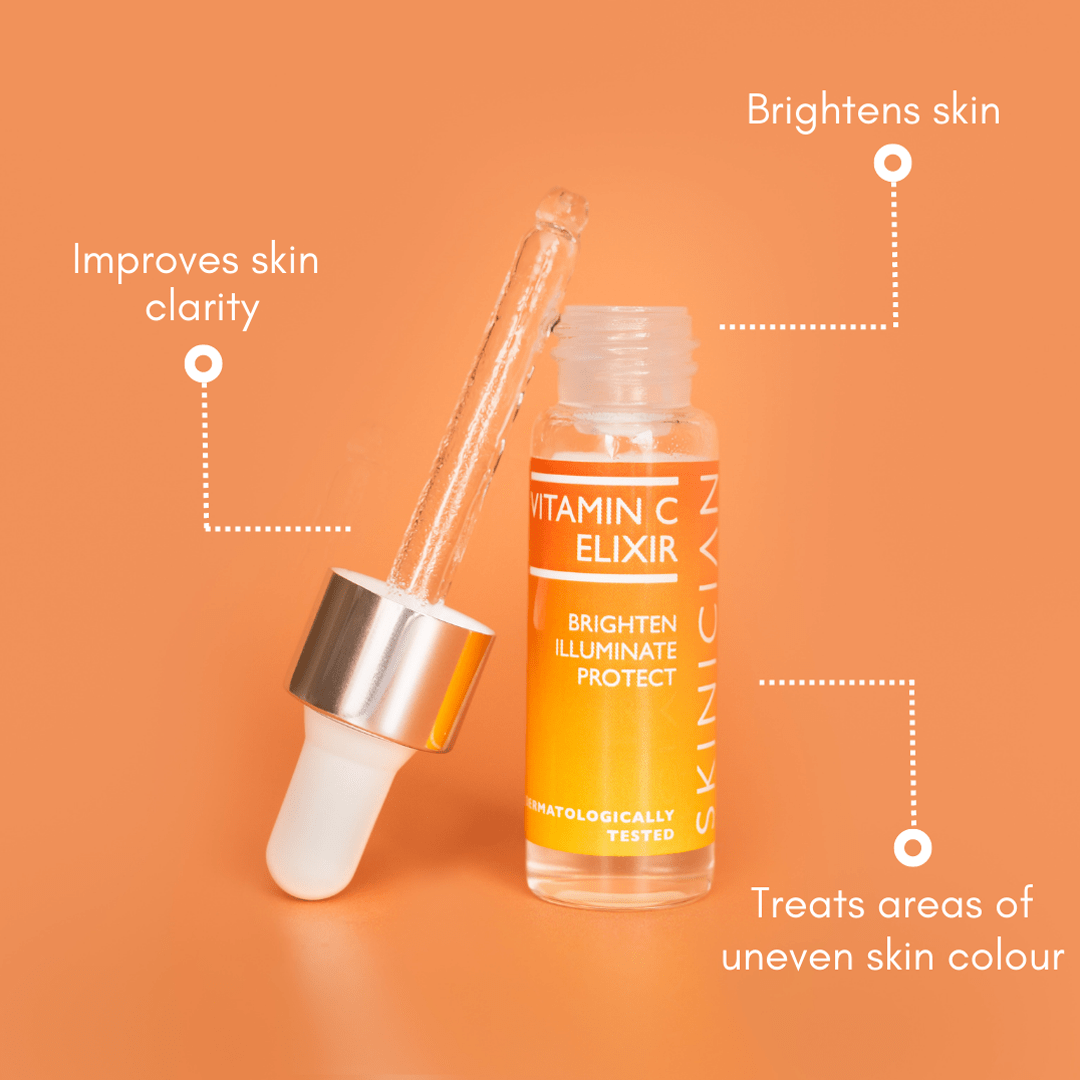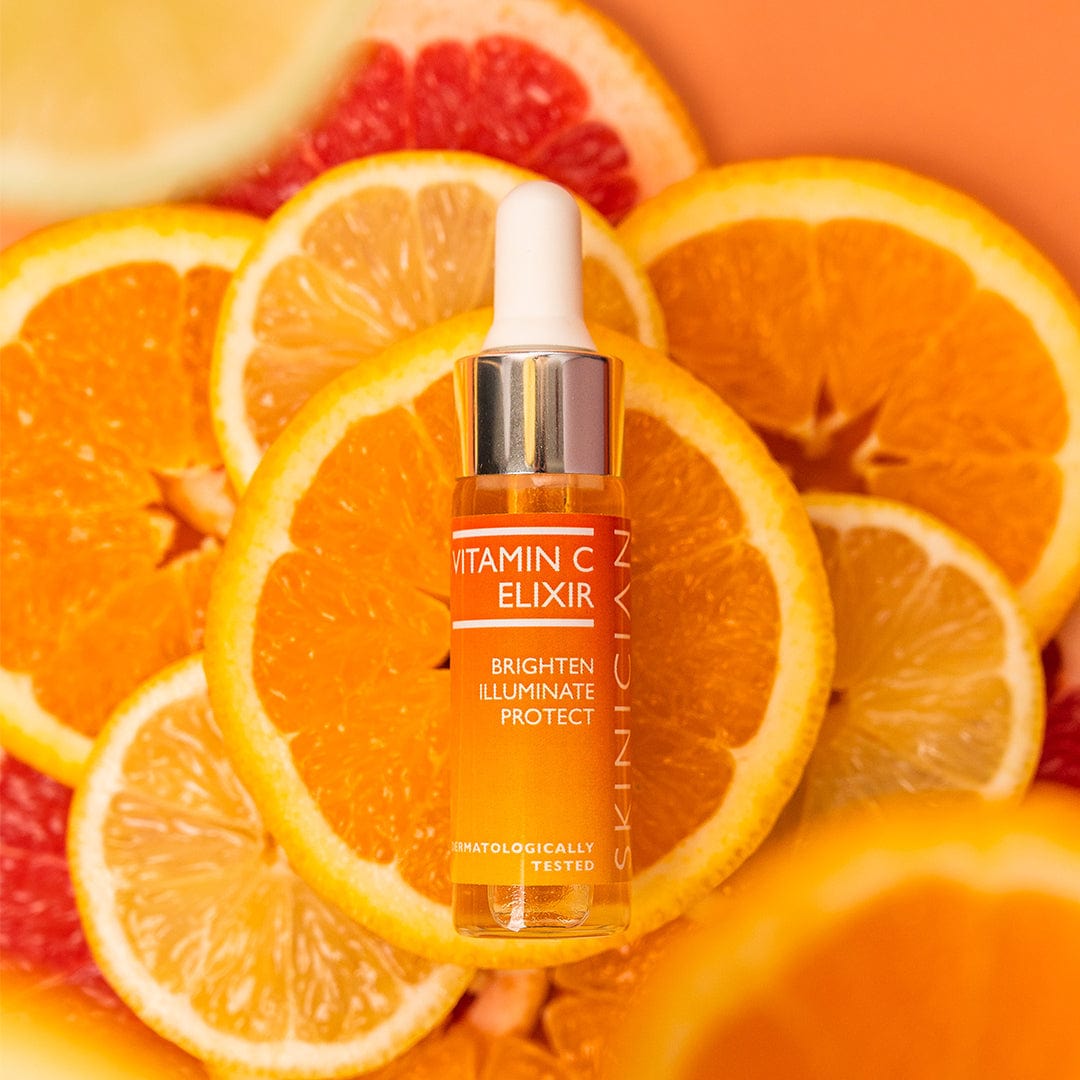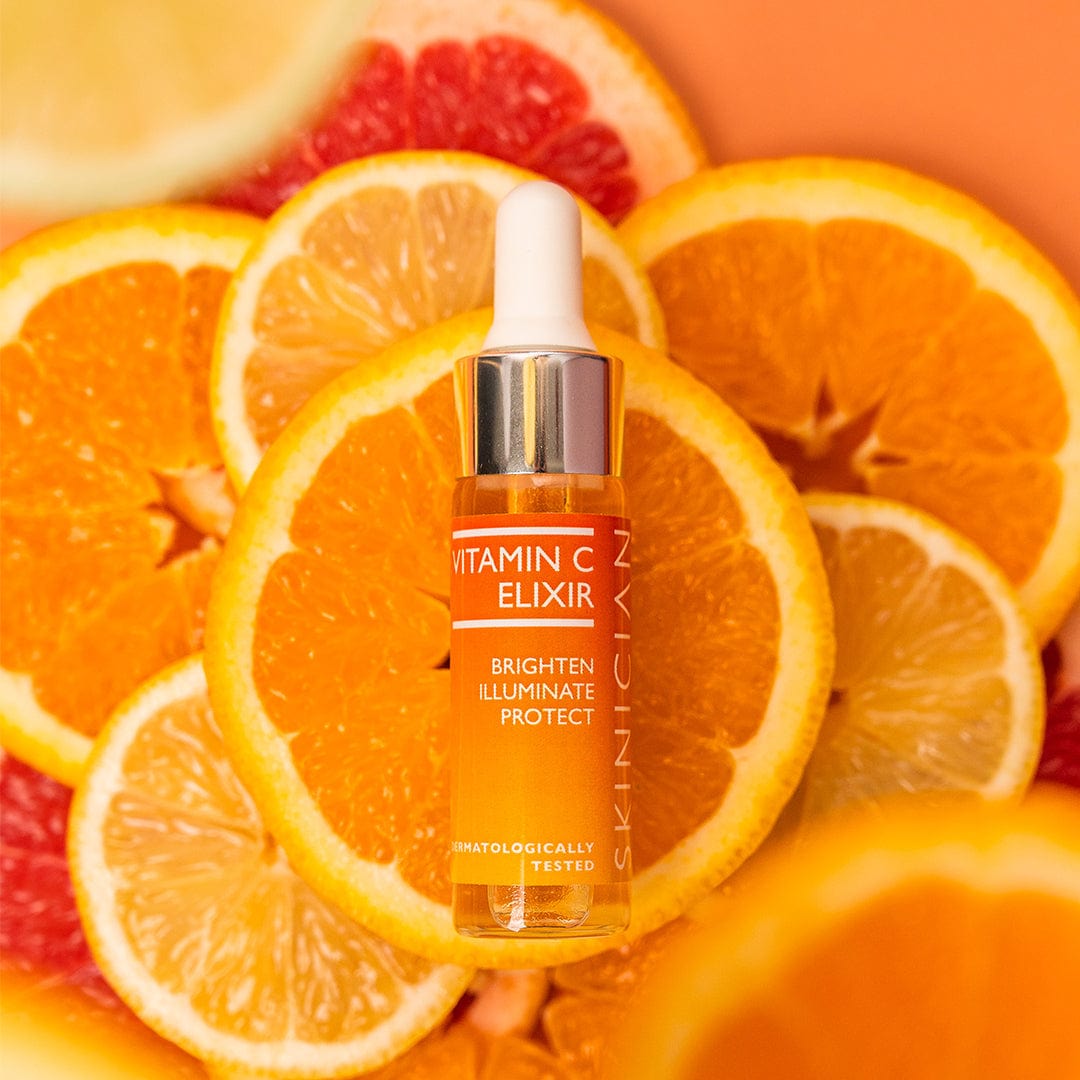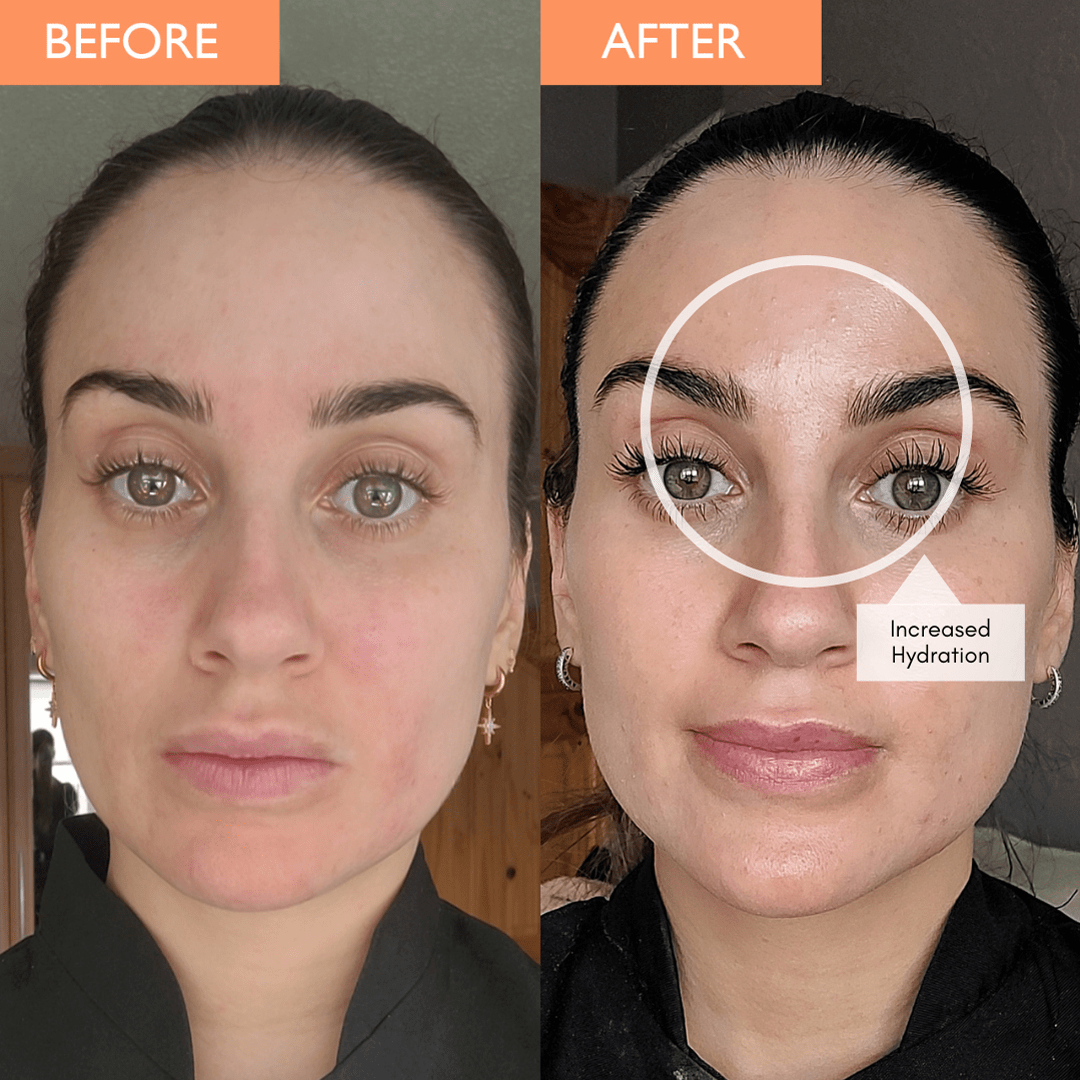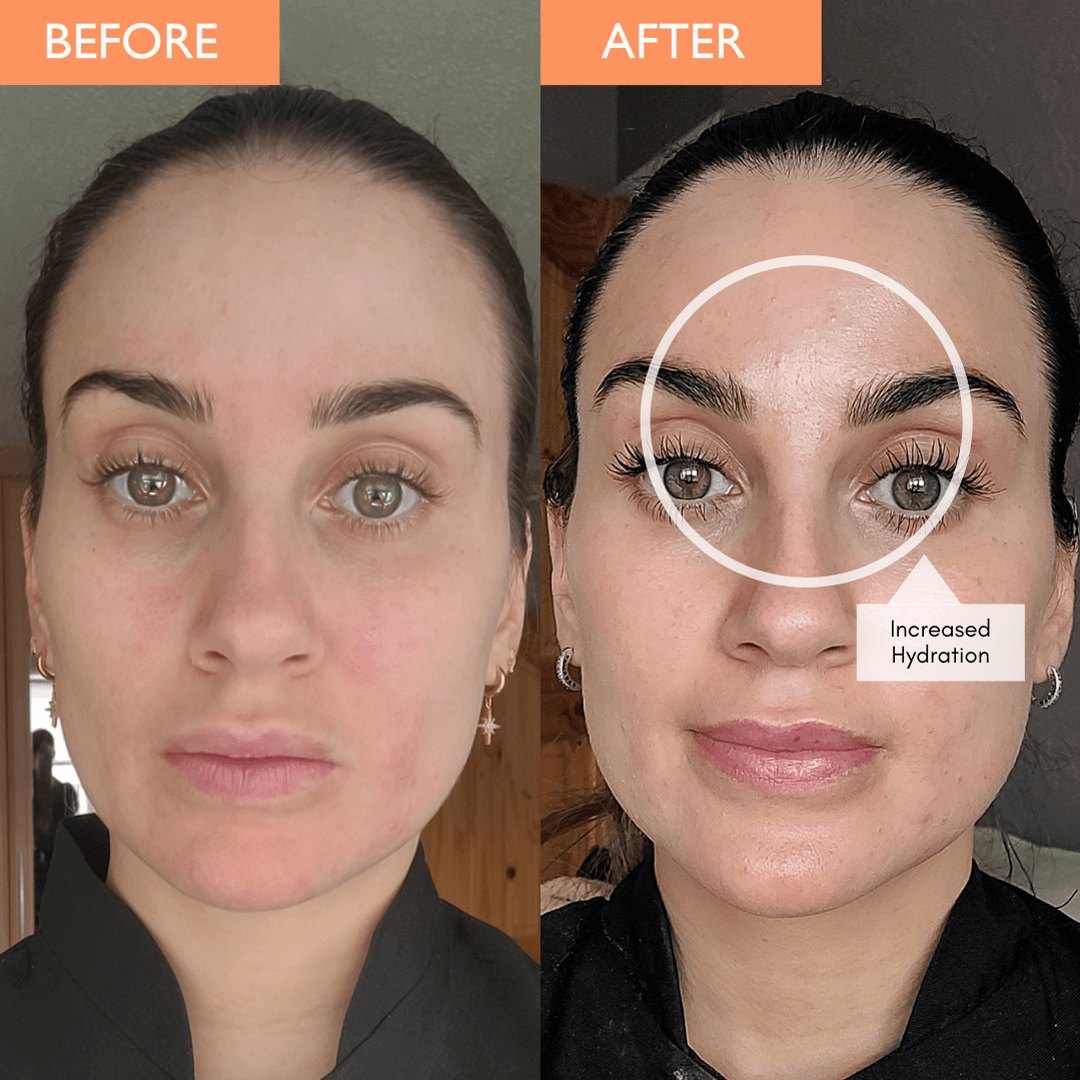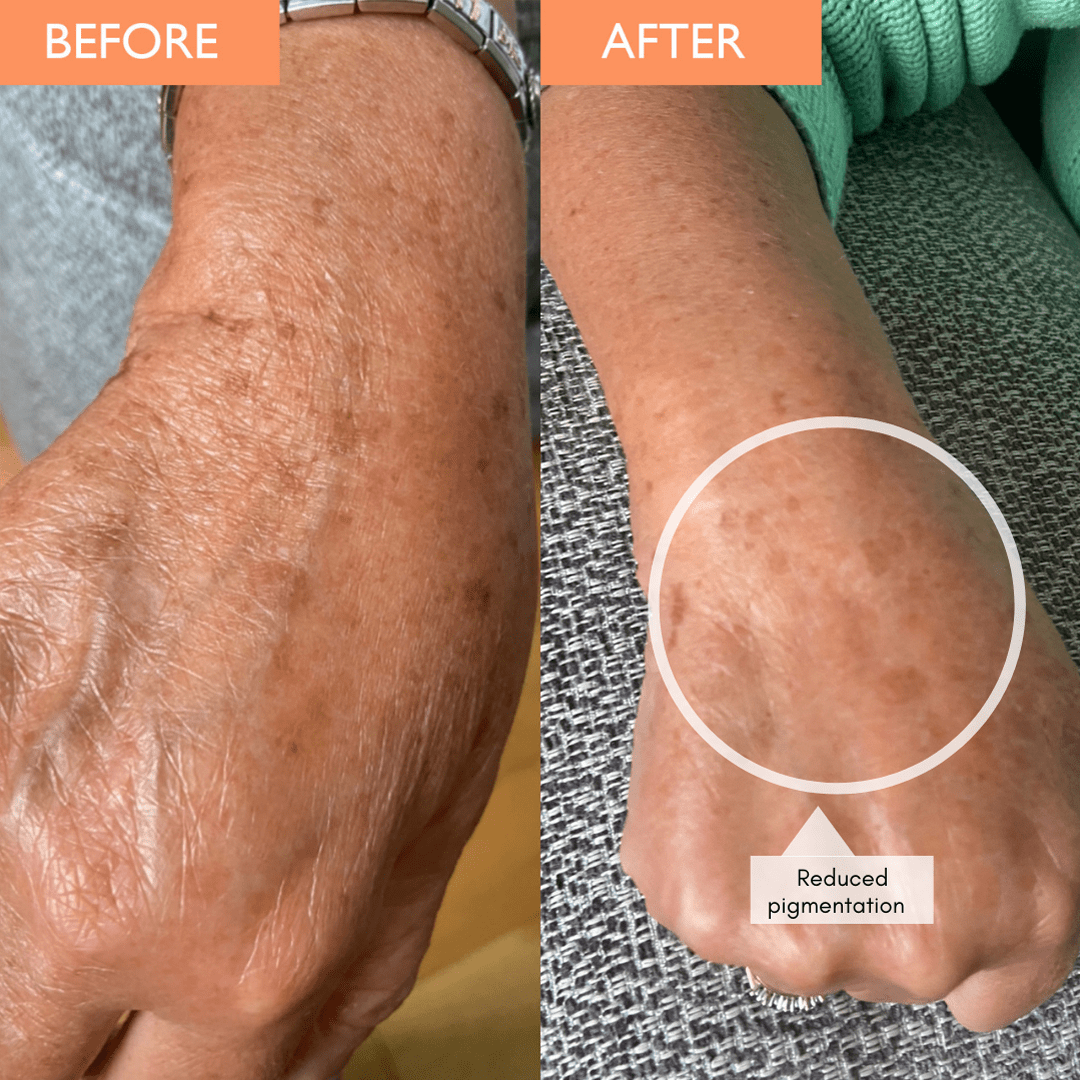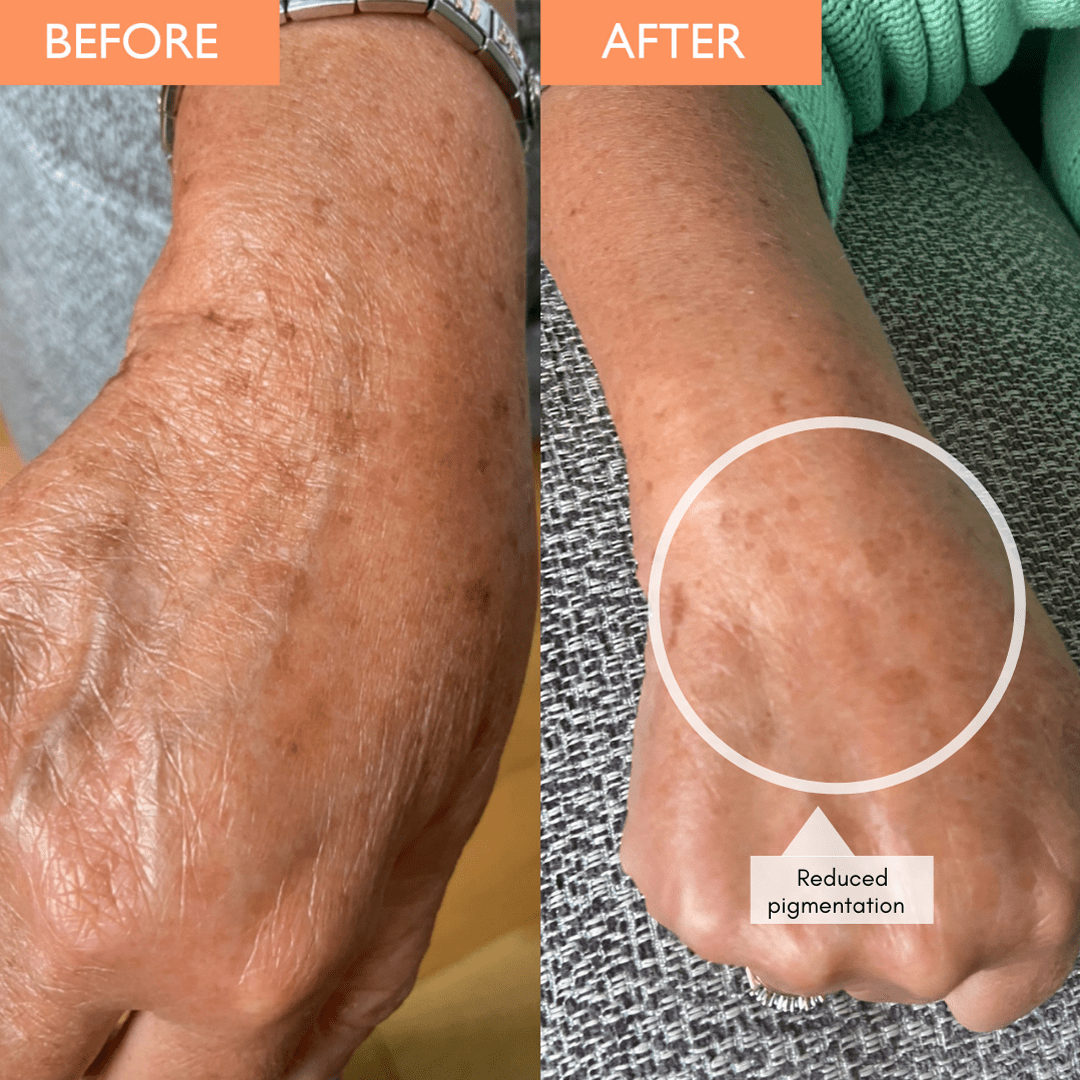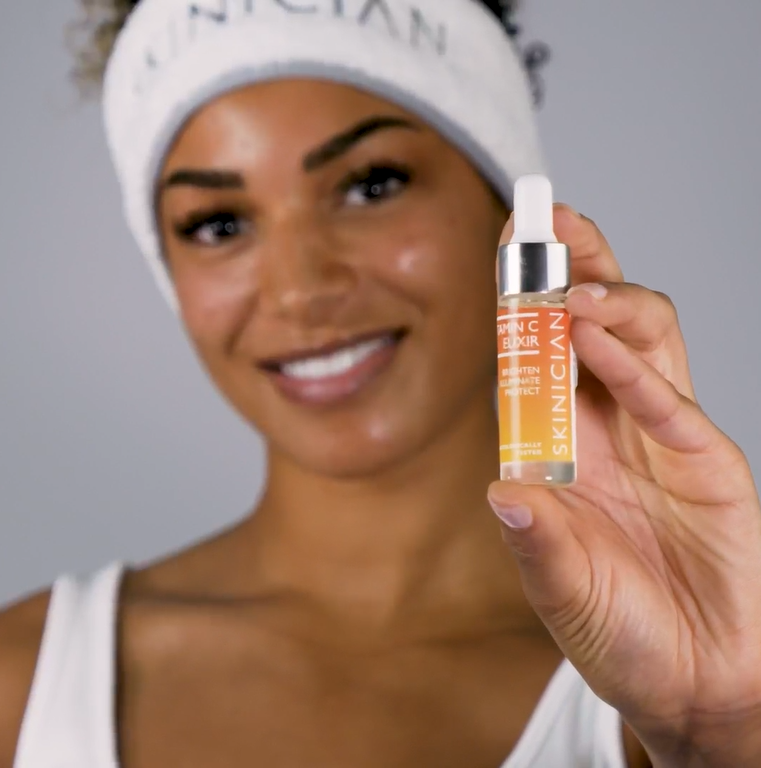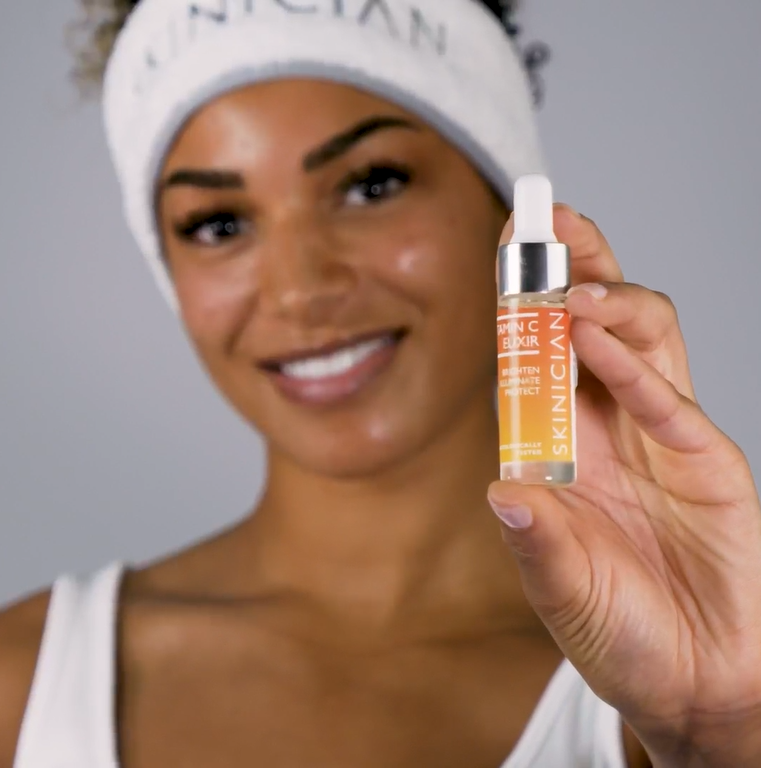 Vitamin C Elixir 15ml
Regular price
Sale price
£32.00 GBP
Unit price
per
Save
Sold out
A hero non-greasy Vitamin C serum with the additions of Vitamin, A, D and E to diminish pigmentation and boost collagen for healthy, glowing skin. 
Skin concerns: dull skin, dry skin, pigmentation, premature ageing, balanced skin (normal) and those seeking general skin health & radiance
If your skin is looking a little dull and lacklustre, this multi-tasking Vitamin C serum will infuse it with a new lease of life. Delivered via a non-greasy oil that immediately sinks into the skin, it stars brightening Vitamin C, a potent antioxidant that speeds up cell turnover to diminish pigmentation and age spots, while boosting collagen production to leave skin plumper with the appearance of fine lines and wrinkles reduced. It can also 'supercharge' any SPF product you layer on top of it, helping to repair and protect skin from free radical damage caused by UV rays.

This hero brightening antioxidant is complemented by nourishing avocado oil rich in vitamins A & D, grapeseed oil and vitamin E the perfect recipe for a radiant, post-facial glow. Perfect to apply every morning as part of your routine, this has all the key vitamins your skin needs to look and feel at its best. Wear it on its own and simply apply SPF on top – it's your one-stop shop for healthy radiant skin. 

"I wanted to create a go-to vitamin c face serum which has a lot of the key vitamins our skin needs in one comprehensive formula, to tackle a number of concerns such as dull skin, pigmentation and fine lines. To give you the absolute best results, this multi-vitamin infused facial oil has a very stable formula and contains key ingredients that convert into vitamin C in the skin. It is super quick and easy to apply, without leaving any oily residue – making it perfect for all skin types. If you're looking to take your skincare regime to the next level, this should be your go-to!" – Shelley Martin, Co-founder SKINICIAN 

Read more about our sustainability pledge
Vitamin C
Clinically proven to reduce pigmentation and age spots in 21 days for a brighter skin tone, reduce cell damage caused by UVA and UVB rays by over a third and increase collagen production and slow skin ageing 

Avocado Oil with vitamins A & D 
Supports and improves the skin barrier, deeply nourishes, stimulates and regenerates skin while deeply hydrating.  

Vitamin E
Nourishes and protects the skin from environmental stressors and free radical damage  

Grapeseed Oil
Has protective anti-inflammatory properties, supports, rebuilds and nourishes the skin's barrier 

Full ingredients list:
Caprylic/Capric Triglyceride (emollient/hydrating), Vitis Vinifera (Grape) Seed Oil (antioxidant/hydrating), Ascorbyl Tetraisopalmitate (Vitamin C - brightening/collagen boosting/protective), Persea Gratissima (Avocado) Oil (nourishing/protective), Silica (absorbent), Tocopheryl Acetate (Vitamin E – antioxidant), Parfum (fragrance), Citral (natural fragrance), Limonene (natural fragrance). 
How to use Vitamin C Elixir 
After cleansing and toning the skin, take 1-3 drops of your Vitamin C oil in the palms of your hands, rub together and spread evenly over face, neck and décolleté avoiding the delicate eye area.

When should I use vitamin C serum in my skincare routine? 
Our anti ageing Vitamin C serum can be used morning or night. If using in the morning, apply before your day moisturiser. If applying at night, apply on top of your night moisturiser as the final step in your regime. If you have an oilier skin type, you may find it best to only apply at night. 

How long will it take to see results?   
When introducing a new SKINICIAN product to your home care routine, it can take between 4-6 weeks which is one full cell cycle. 

Can any skin type use vitamin C ? 
Yes, our Vitamin C face serum is suitable for all skins. However if you have dry, dull, pigmented or ageing skin, you will get the most benefit from using SKINICIAN Vitamin C Elixir in your skincare routine. 

Can I use vitamin C and retinol together? 
If you would like to use both vitamin C and retinol in your skincare routine, we would recommend using our Vitamin C face oil in the morning and your  Overnight Retinol Powerbalm at night. If you would prefer to use your Vitamin C oil for face in the evening, we recommend alternating between them i.e. using the Vitamin C Elixir one evening and then using the Overnight Retinol Powerbalm the next evening. 

Is vitamin C Serum good for oily skin? 
Yes, if you have oilier skin types can use our Vitamin C Elixir, however it may be best applied as part of your night-time routine.     

Is vitamin c serum good for dry skin? 
Yes, vitamin C is a great ingredient for helping you achieve a hydrated and brighter complexion. Our Vitamin C serum has also been formulated with hydrating natural oils such as avocado oil and  grapeseed oil for a boost of extra hydration and a beautiful glow. 

Does vitamin c help with aging skin?  
Vitamin C is a great ingredient to introduce into your skincare routine if you are concerned with ageing. Vitamin C has been clinically proven to promote collagen production and reduce pigmentation. Combined with the other antioxidant-rich ingredients in our Vitamin C Elixir, it will help reduce the appearance of fine lines and wrinkles and brighten uneven skin tones.  

Can I use vitamin C serums if I have sensitive skin? 
Yes. Our Elixir Vitamin C serum is also formulated with grapeseed oil which helps to reduce inflammation and nourish the skin's barrier. 

Can I use vitamin C oil on its own? 
Yes, SKINICIAN Vitamin C Elixir can be used on the skin in place of a night cream. However, if you have dry, dehydrated or mature skin, it can be used with our  Restoring Night Cream. We do not advise using it alone during the day as we require an SPF to protect the skin from UVR.  

Is vitamin c serum safe during pregnancy? 
Yes, you can safely use our Vitamin C Elixir during pregnancy. 
For best results take 1-3 drops and evenly apply to your face, neck and décolleté avoiding the soft eye area.

If applying in the morning, apply before your SPF day moisturiser. 

If applying in the evening, Vitamin C Elixir should be the final step in your skincare routine. Apply after your night moisturiser.
Country
Delivery Information
UK & NI
Eco option - £3.95 (3-5 working days)
FREE on orders over £40
Priority - £4.95 (1-2 working days)
Republic of Ireland

£4.95 (1-2 working days)




FREE on orders over £40

Europe

£7.95 (7-10 working days)




FREE on orders over £100

Rest of World
£15 (15-20 working days)
FREE on orders over £150