Moisturising oily skin can feel counterintuitive, but moisturising is a crucial step for women suffering from excess oil production. Contrary to popular brief, maintaining your skin's moisture can reduce oil production as it balances your skin's hydration levels.
We probably don't need to tell you about the importance of sunscreen and SPF – but just in case – incorporating SPF into your daily and night time skincare routine is not just about preventing sunburn. It's about protecting your skin from UV rays that can accelerate skin aging and cause discoloration.
For those of us with oily skin, we might find that the sun's rays can stimulate excess oil production, making it even more important to use an SPF moisturiser.
Putting on sunscreen every single day may not be necessary, and some sun creams can be heavy on the skin – that's where SPF moisturisers for oily skin come in – you can reap the benefits of both a moisturiser and a sunscreen into one powerhouse product that's so light you'll be happy to wear it daily.
Best SPF Moisturisers For Oily Skin
Purifying Day Moisturiser SPF 30 50ml
A lightweight mattifying moisturiser with SPF30, broad-spectrum sun protection that controls excess oil and reduces breakouts.
Regular price
Sale price
£25.00 GBP
Unit price
per
Save
Sold out
View full details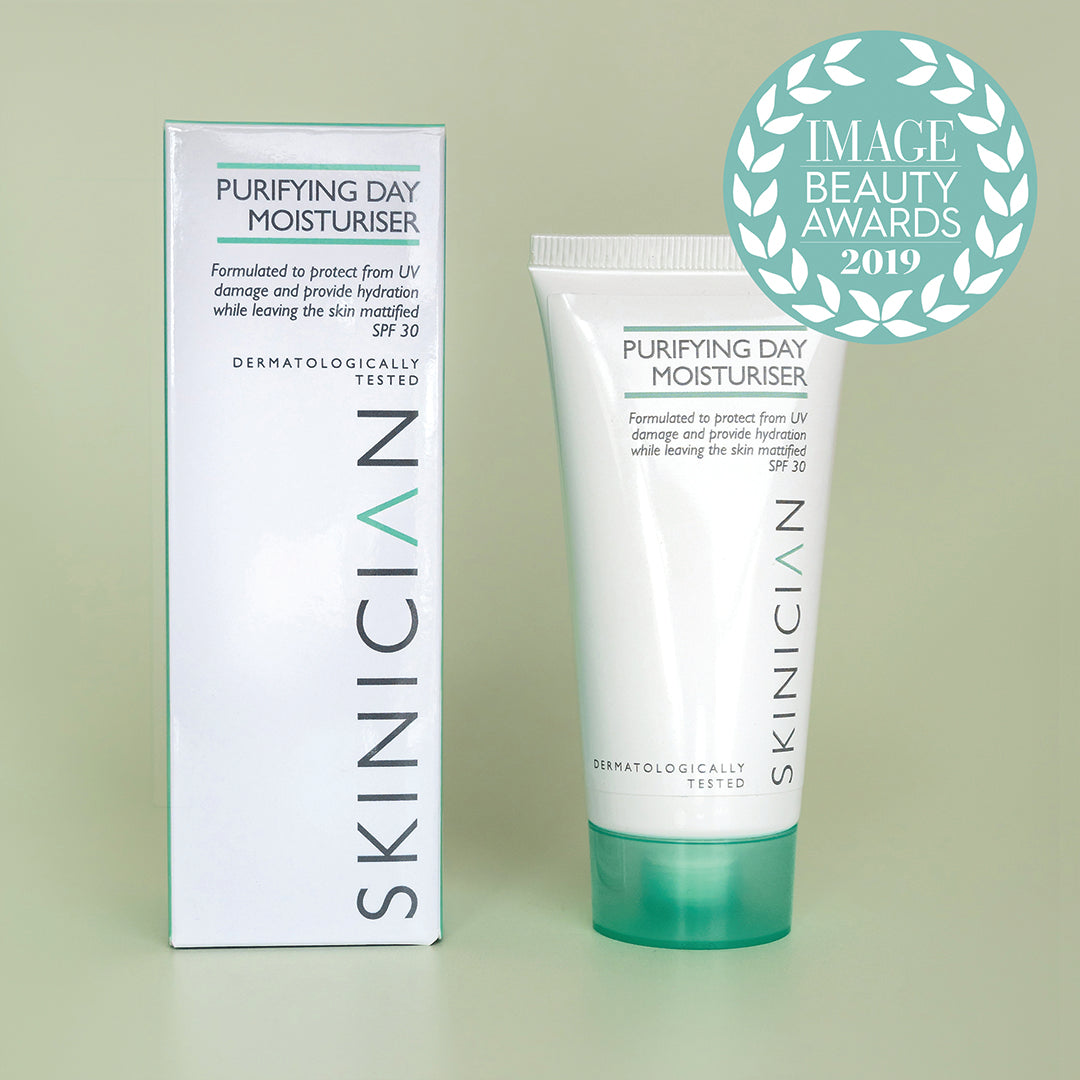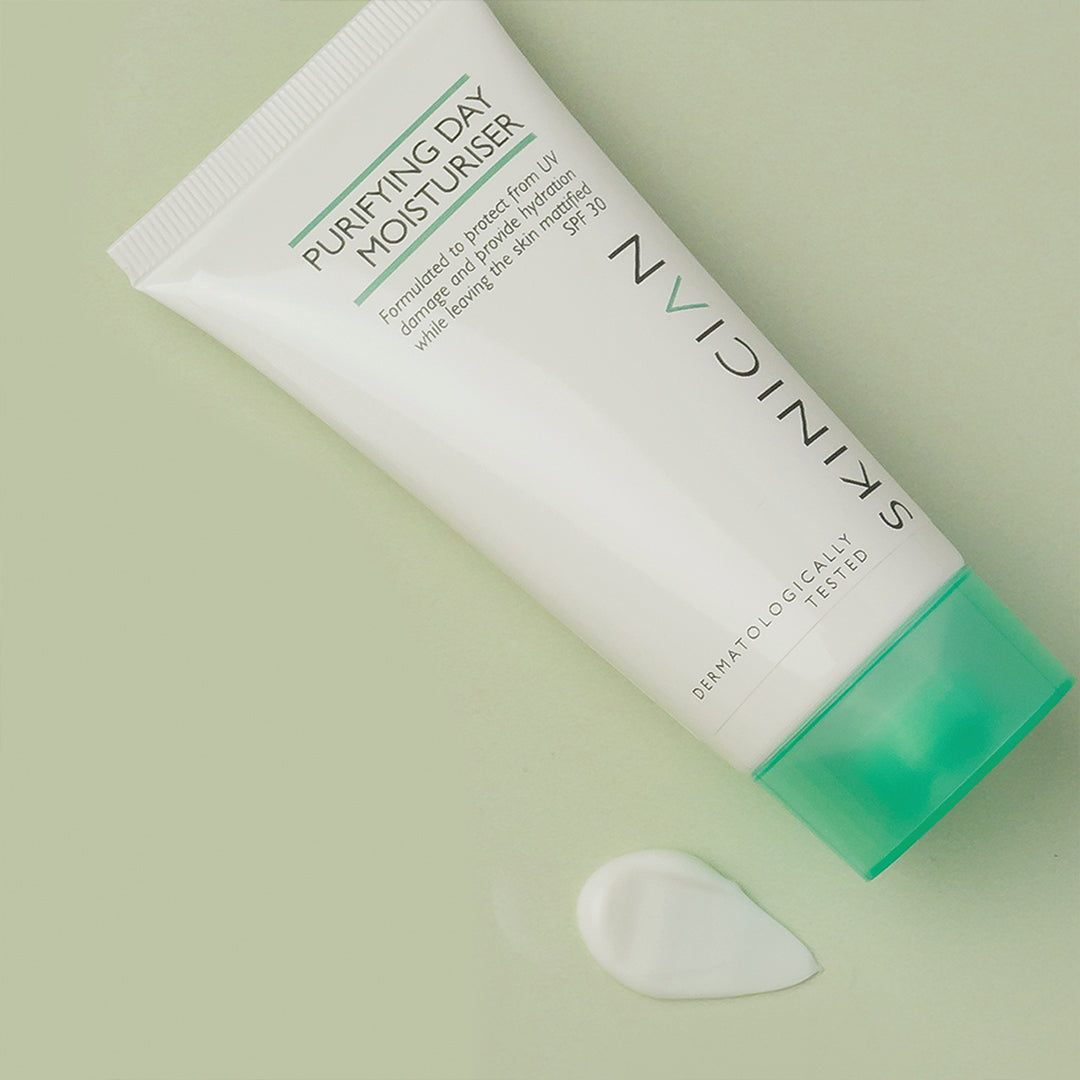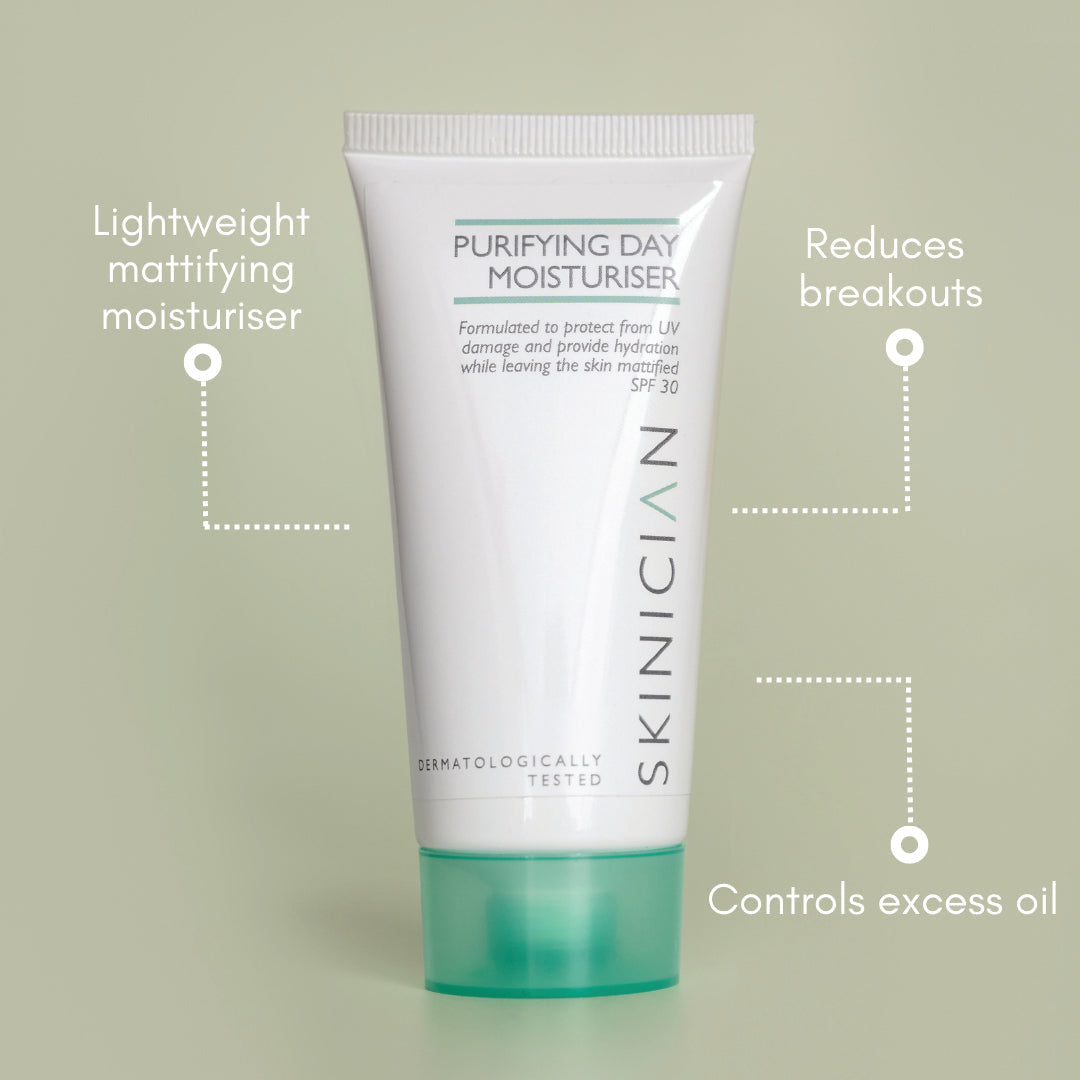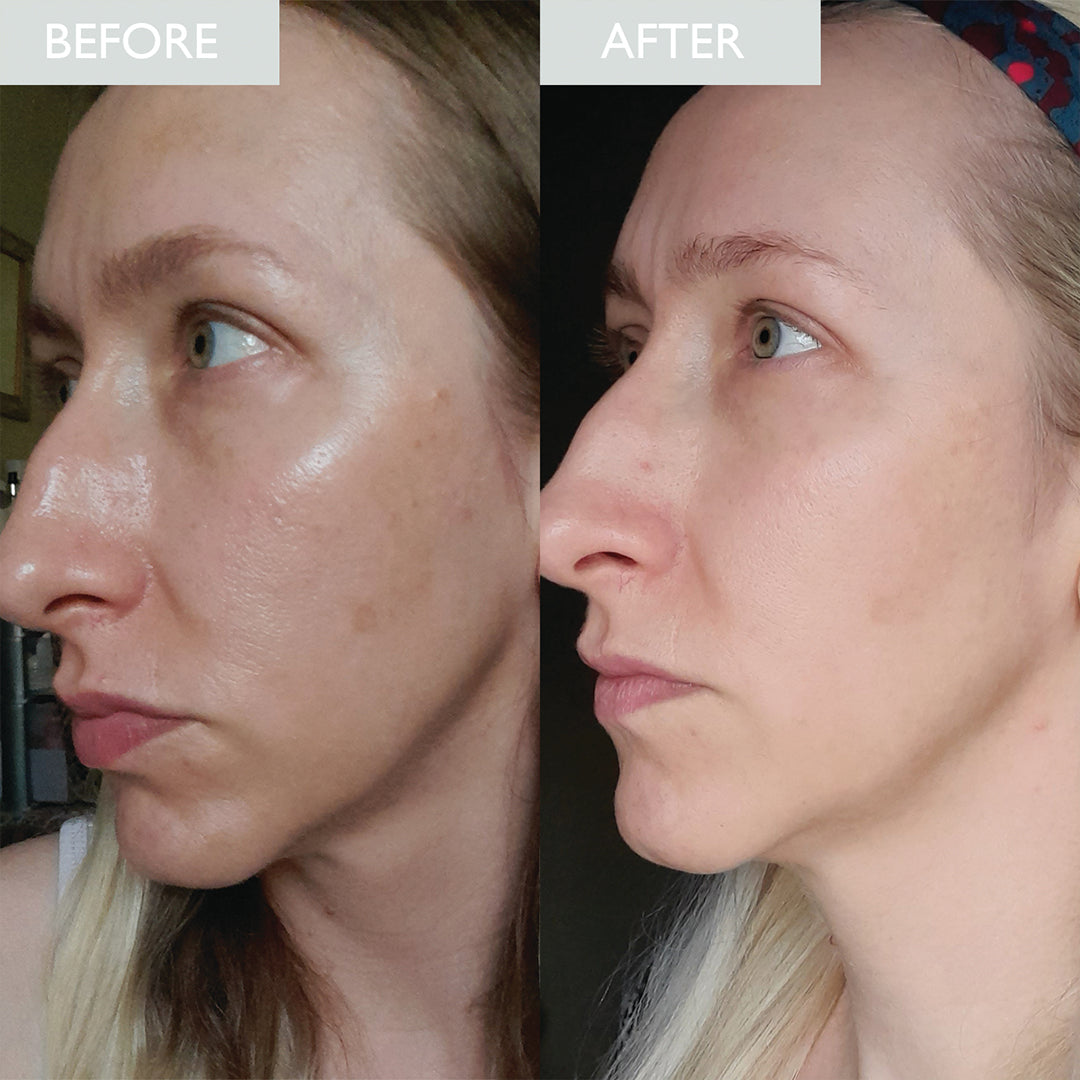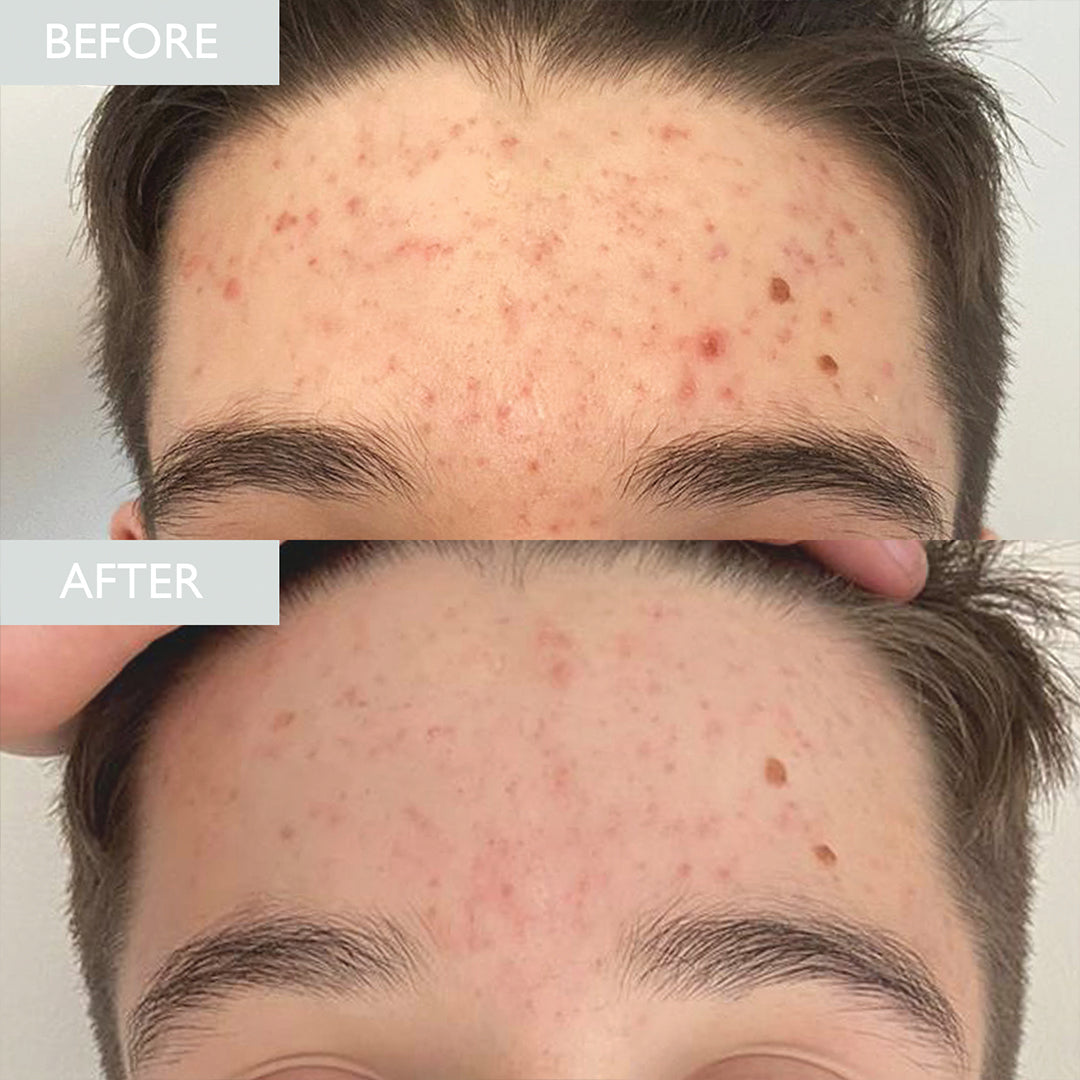 Oily Skin Before & After SPF Moisturiser - Skin Success Story
Katka's biggest skin concern was oily production and shiny skin. She admits that striking a balance with her skincare routine was troublesome. Her oily skin was difficult to manage.
That was until she met our skincare expert, Lindsay. 
After a free consultation, Lindsay gave Katka recommendations on skincare products to help manage her excess oil. One of those products was the Revitalising Day Moisturiser with SPF 30. After just four weeks of following her plan, Katka's results are in. She says, "My skin feels very hydrated and refreshed. Not irritated! A deep clean feeling!"
The Purifying Day Moisturiser used by Katka is known for its oily skin benefits. With Zinc PCA and a unique mattifying complex, it manages sebum production, reduces shine, and prevents pore blockages.
The nourishing ingredients also include Vitamin E, glycerin, and shea butter, each provides hydration and antioxidant protection, all while maintaining a lightweight, non-greasy feel.
Oily Skin Guides
Our oily skin blog answers commonly asked questions about the management and prevention of oily skin. 
Some of the top guides include
FAQ'S
Why is it important to moisturise oily skin?
Moisturising oily skin helps maintain its natural hydration balance and prevents it from producing excess oil to compensate for dryness.
Won't moisturising make my oily skin even oilier?
No, as long as you use the right moisturiser you won't make your skin even olier. Instead, the right moisturiser will help balance oil production reduce oiliness on the skin and mattify your complexion, too.
What type of moisturiser should I use for my oily skin?
Opt for lightweight, non-comedogenic type of moisturiser. Look for a product that has been specifically formulated for oily skin. It will usually say on the packaging, but if you're not sure, look out for ingredients like zinc PCA.
Does SPF in moisturisers cause breakouts in oily skin?
No, SPF moisturisers do not cause breakouts in oily skin as long as you choose a lightweight SPF moisturiser designed for oily skin and cleanse your face thoroughly at the end of the day.
How should I apply SPF moisturiser on oily skin?
When applying SPF moisturiser, put some of the product onto the tip of your finger or the back of your hand. Apply a five-pence-sized amount evenly to your face and neck, preferably 15-30 minutes before sun exposure.
Can I wear makeup over my SPF moisturiser?
Yes, you can wear make up over your SPF moisturisr. If you can, allow the moisturiser to absorb fully before applying makeup for the best results.
How often should I apply SPF moisturiser on my oily skin?
You should apply your SPF moisturiser daily – even if it's not a particularly sunny day. Daily application will give you the best possible treatment for your oily skin.
What is the best time to apply SPF moisturiser?
The best time to apply your SPF moisturiser in the morning as part of your daytime skincare routine.
Are there any specific ingredients I should look for in SPF moisturisers for oily skin?
Specific ingredient to look for n an SPF moisturiser for oily skin is Zinc PCA, which helps control sebum production. Ingredients like glycerin or hyaluronic acid help with hydration.
Does oily skin need a different SPF level than dry skin?
Oily skin does not necessarily need a different level of SPF than dry skin. Both skin types should use a moisturiser with at least SPF 30.
What's the difference between a regular moisturiser and an SPF moisturiser?
The major difference between a regular mouisturiser and an SPF moisturiders is the SPF – the ingredient that protects the skin from harmful UV.
Are Skinician's SPF moisturisers suitable for sensitive skin as well?
Yes, Skinician's SPF moisturisers are formulated to be gentle and suitable for all skin types, including sensitive skin.
Is SPF moisturiser good for oily skin?
Yes, SPF moisturiser is good for oily skin. It provides essential sun protection while helping control oil production.
Is SPF 30 or 50 better for oily skin?
Either SPF 30 or SPF 50 can be suitable for oily skin, but the key is to apply it correctly and regularly. Higher SPF can offer more protection if applied properly.
About Skinician
Founded by a mother-daughter duo, Hilary and Shelley, SKINICIAN has a mission to dispel the confusion in the skincare world by offering multi-functional products that target multiple skin concerns simultaneously.
We believe that skincare should be simplified, affordable, and effective without compromising skin's health or the planet's wellbeing. 
All of our skincare use scientific formulas consisting of 90% naturally-derived actives.
Skinician's commitment to sustainability
We're committed to being eco-friendly. All of our products are vegan, cruelty-free, PETA-approved, and crafted in the UK. We're dedicated to happy, healthy skin that doesn't cost the earth.
Still not sure whether you want to buy SPF moisturiser for oily skin?
We're committed to you we will endeavor to dispatch your order within 24-48 hours.
Shipping and delivery
All items ordered before 2 pm are dispatched on the same day. Orders after 2 pm are dispatched the following day.  Any orders placed on a Friday after 2 pm are dispatched on Monday.