What is 3-O-Ethyl Ascorbic Acid?
3-O-ethyl ascorbic acid is an innovative new form of Vitamin C that ensures delivery of Vitamin C into the deeper levels of the skin (epidermis).
It is a water and oil soluble form of Vitamin C which means it is very stable. Within SKINICIAN, we opted for Rovisome™ encapsulated technology to deliver 3-O-ethyl ascorbic acid deep into the skin, to protect the integrity and performance of Vitamin C. Rovisome technology™ focuses on increasing bioavailability of actives deep in the epidermal layers of the skin. In other words, Rovisome technology™ increases the absorption of vitamin C deep within the skin.
Encapsulated Vitamin C (also known as Liposomal Vitamin C) is an active form of vitamin C which is used in lots of products like OTC drugs, cosmetics, foods, supplements, and more. It is a semi-synthetic substance that is characterised by higher bioavailability, stability, solubility, and non-toxicity, as compared to its natural counterpart. This makes it a safe and stable product that can be used for a myriad of different applications, including in skincare products.
This form of encapsulated Vitamin C is also clinically proven to increase the skins intrinsic antioxidant capacity. We believe that it is important to protect the skin's barrier from pollutants and environmental damage, while also treating skin concerns on a lower level.
Skin benefits of ​3-O-Ethyl Ascorbic Acid
An oil and water soluble, stable form of Vitamin C
This ensures that the active ingredient does not become unstable or ineffective for the skin. As is commonly known, pure Vitamin C (ascorbic acid) is historically unstable and can easily become oxidised very quickly when subjected to light and heat. If Vitamin C is oxidised it can cause irritation and free radical damage to the skin.
Next generation advanced delivery system of vitamin C 
Rovisome™ technology (an encapsulated form) ensures the Vitamin C is delivered into the epidermis and lower levels of the skin which helps the bioavailability (absorption) of Vitamin C within the skin cells.
Increases collagen production and helps fight against the signs of ageing
Proven to boost the elasticity of the skin to make it look smoother, more radiant and dewy.
Brightens and renews skin luminosity
Proven and widely recognised for skin brightening and reducing age spots, hyperpigmentation and dark circles.
Is more tolerable than other forms of Vitamin C
Vitamin C can be irritating to the skin however, as mentioned previously, due to the encapsulation and the stable form of this Vitamin C, it does not irritate the skin as it is delivered more slowly and therefore more effectively into the skin cell.
A powerful antioxidant 
Vitamin C will help protect skin cells against pollutants, UV rays and free radicals that our skin is exposed to every day. It can also help calm inflammation caused by oxidative stresses, especially for those that smoke.
Why We Use 3-O-Ethyl Ascorbic Acid
Vitamin C is one of the most proven antioxidants in the skincare world to benefit skin health. 3-O-ethyl ascorbic Acid is a research-backed form of vitamin C that increases collagen production and luminosity and provides antioxidant protection from free radical damage. It is also proven to minimise dark circles and fade pigmentation for a brighter, more even skin tone.
"We felt 3-O-ethyl ascorbic Acid benefits to skin was the best ingredient choice to complement the other exciting ingredients within our Ageless Peptide Eye Complex. It is stable, and tolerable by all skin types and therefore provides a healthy approach to eye treatments. Afterall, the eye area is the first to show signs of ageing and we want to protect and plump the area as well as treat for a bright eye area."
- Shelley Martin, Co-Founder & New Product Development Lead
The above diagram shows how the encapsulation of Vitamin C can enhance the performance of the Vitamin C active by stabilising it and ensuring targeted delivery into the skin.  
*Encapsulation of an ingredient protects the active ingredient from unwanted interactions with other ingredients. In this case the vitamin C is protected by a liposome wall until it is delivered deeper into the layers of the skin.
INGREDIENTS THAT COMPLIMENT 3-O-Ethyl Ascorbic Acid
We have combined this type of Vitamin C with the following host of other vitamins and hydrators in a multitasking eye cream to boost overall results:
Hyaluronic Spherical Technology

Swells to 30x its original size to increase skin hydration and immediately fill wrinkles with continued improvement for up to 6 hours. Proven to smooth skin by 77%.

Dermapep™

A peptide that mimics retinoic acid to stimulate collagen and elastin production and decrease wrinkle depth. Proven to reduce the number of wrinkles by 30% and their depth by 35%

UV Broad Spectrum Filters

Protects against harmful UVA & UVB rays
3-O-Ethyl Ascorbic Acid Skincare Products
Peptide Eye Complex 15ml
This powerful eye cream is formulated with highly innovative ingredients, including Hyaluronic Spherical Technology, Dermapep™ peptides, UV Filters and Encapsulated Vitamin C. It is a sophisticated daily use eye cream to target and treat all skin concerns commonly experienced around the eye area.
Regular price
Sale price
£40.00 GBP
Unit price
per
Save
Sold out
View full details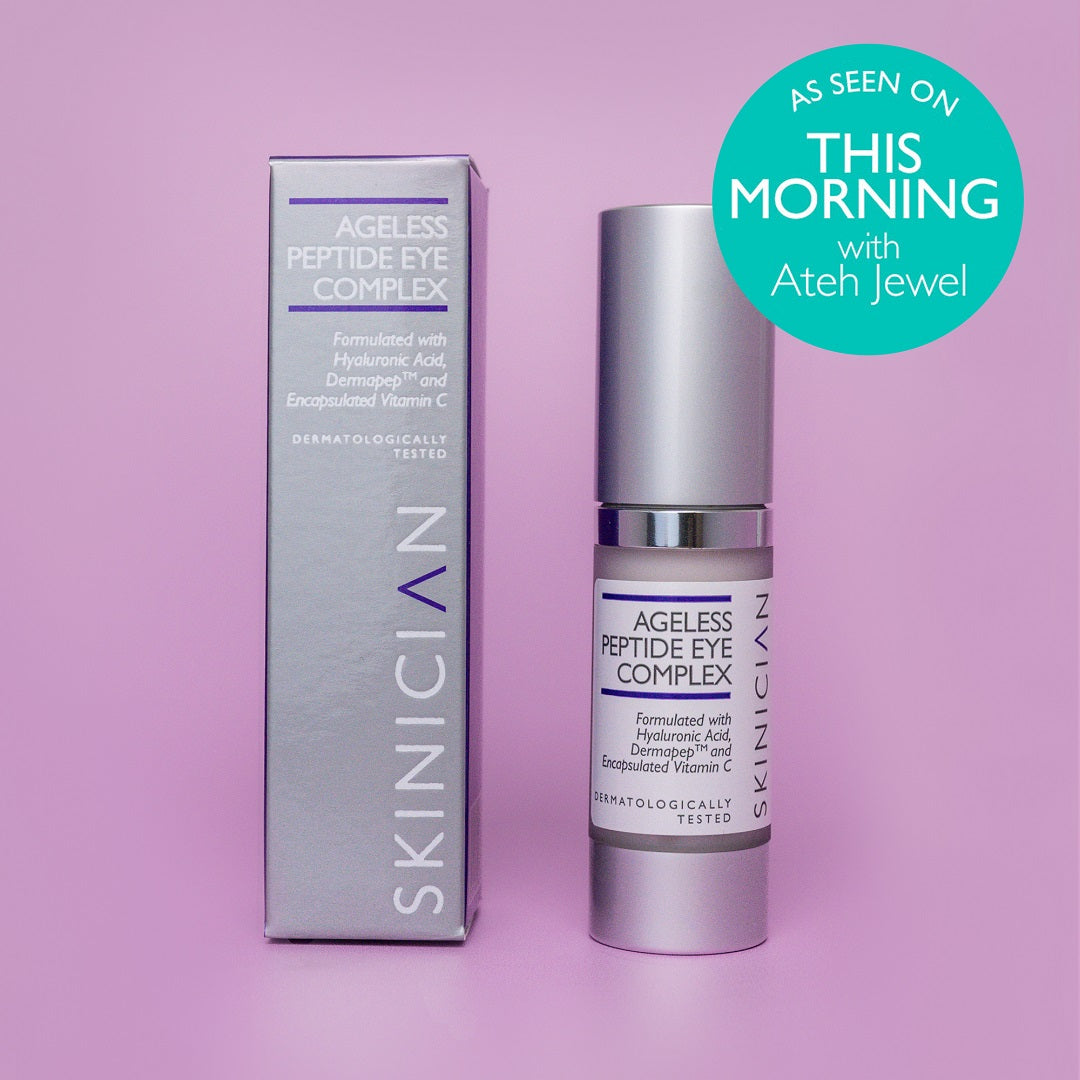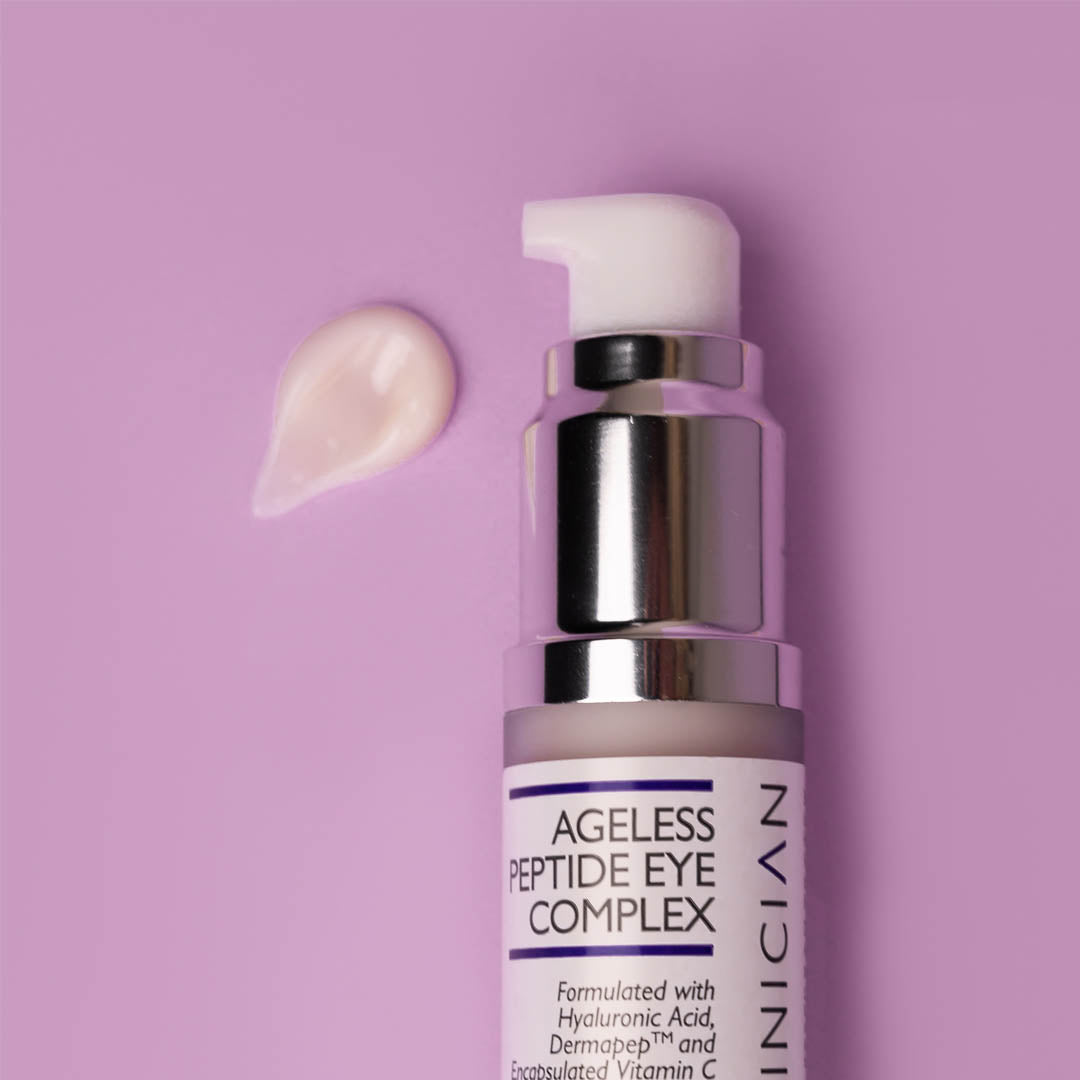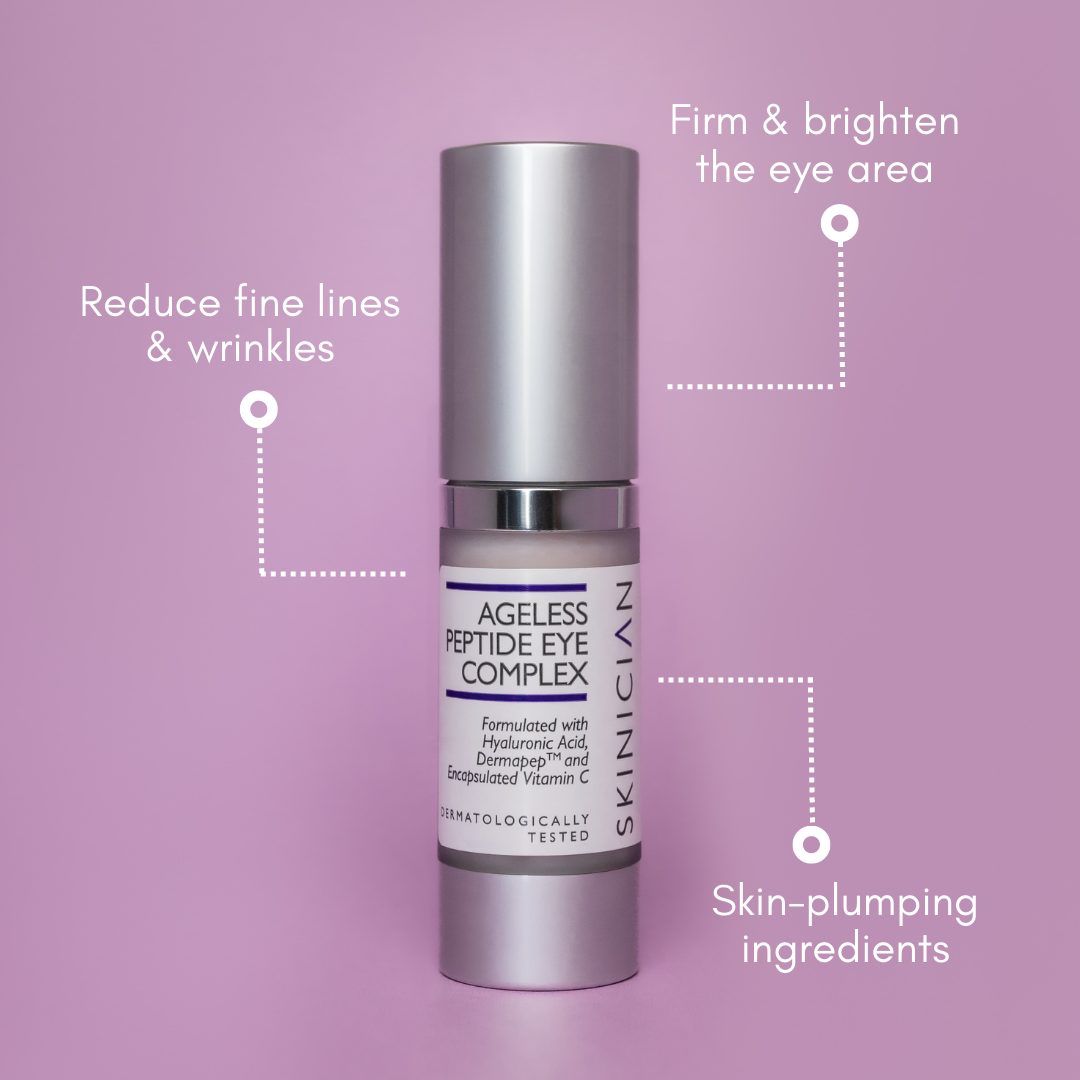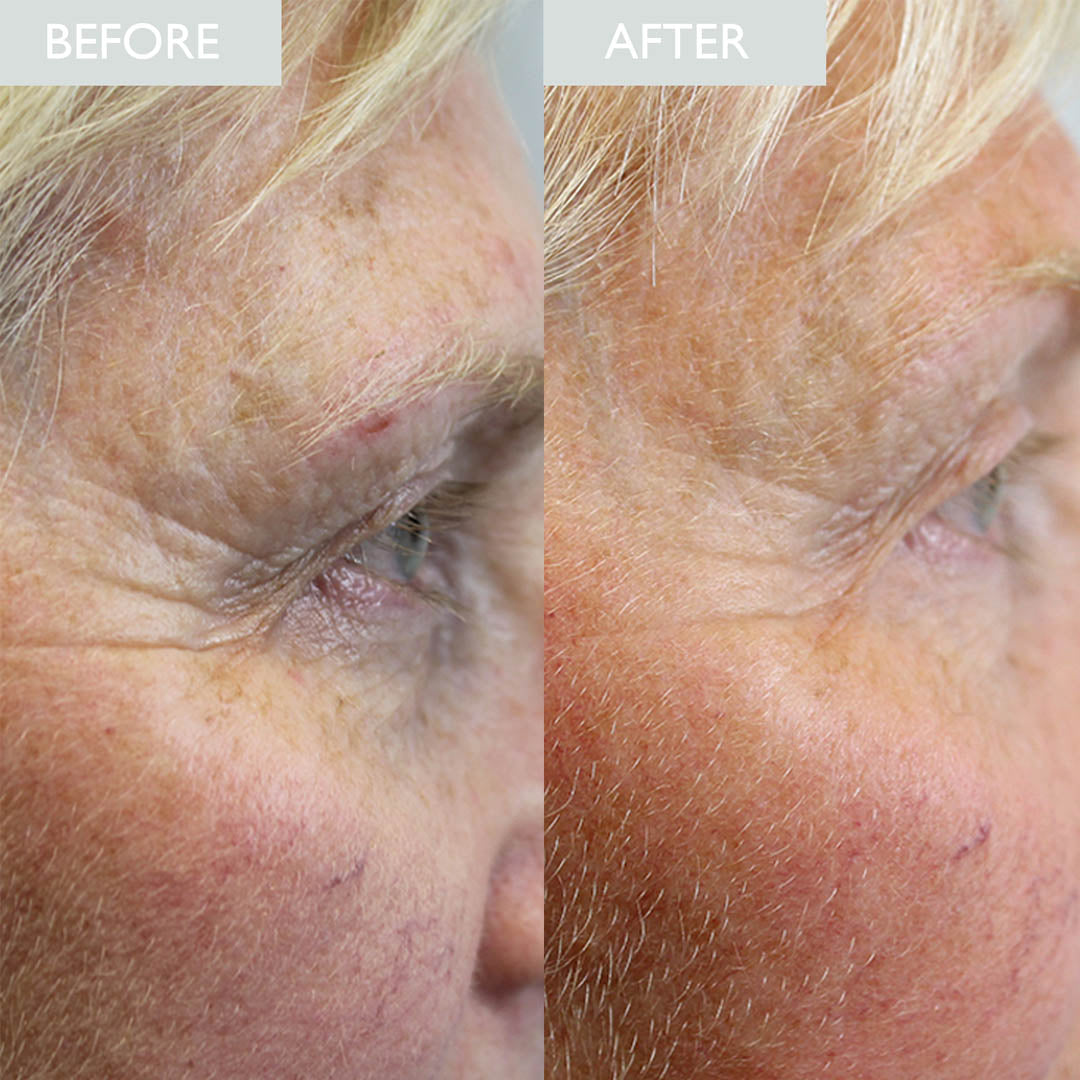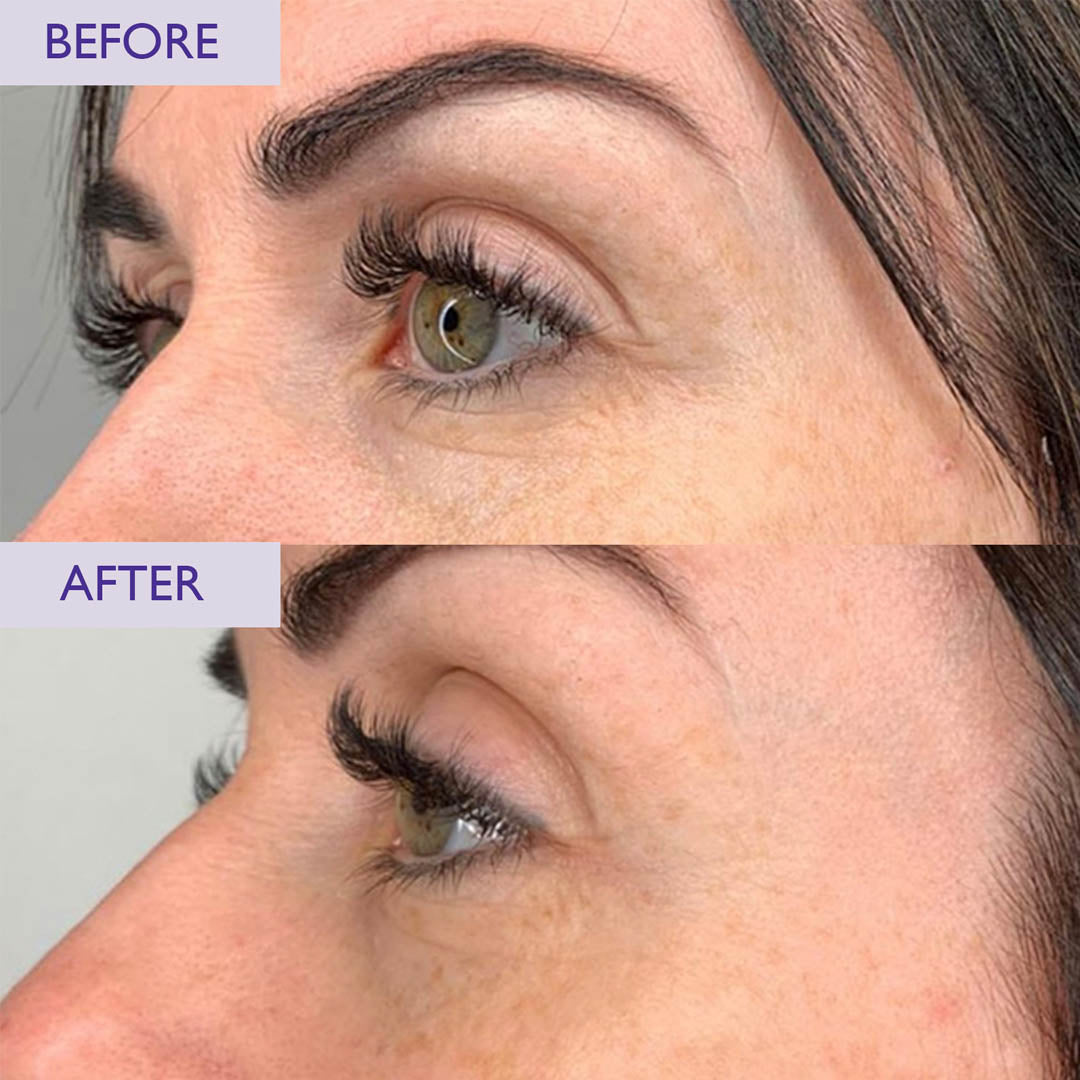 In clinical study conducted with participants over a 4 week period, our Peptide Eye Complex returned the following results:
95% of people recorded an increase in moisture around the eye area
95% of people recorded an improvement in firmness
90% of people recorded a reduction in lines around the eye area
95% of people observed a reduction in discolouration and improvement in skin tone
Who 3-O-Ethyl Ascorbic Acid Is Best For
We believe Vitamin C 3-O-Ethyl Ascorbic Acid skincare is a great addition to every routine. It is most suitable for; dryness, dulling, pigmentation, fine lines and dark circles or those seeking general skin brightness
Things to Consider Before Using 3-O-Ethyl Ascorbic Acid
We highly recommend using one of our SPF's after the Ageless Eye Peptide Complex during the day, to ensure further protection from free radicals and UV rays.
Known to be suitable for all skin types, those with hyper sensitive skin may experience tingling, itchiness or irritation. It is best to work this ingredient into your routine slowly if you do experience any side effects.  However our studies were conducted on participants with sensitive eyes, with no negative side effects reported.
Vitamin C is not recommended for use alongside Retinol or Benzoyl Peroxide at the same time.
Before and After Using 3-O-Ethyl Ascorbic Acid
Take a look at some of our real before and afters taken by customers who used our Peptide Eye Complex which is formulated with 3-O-Ethyl Ascorbic Acid: