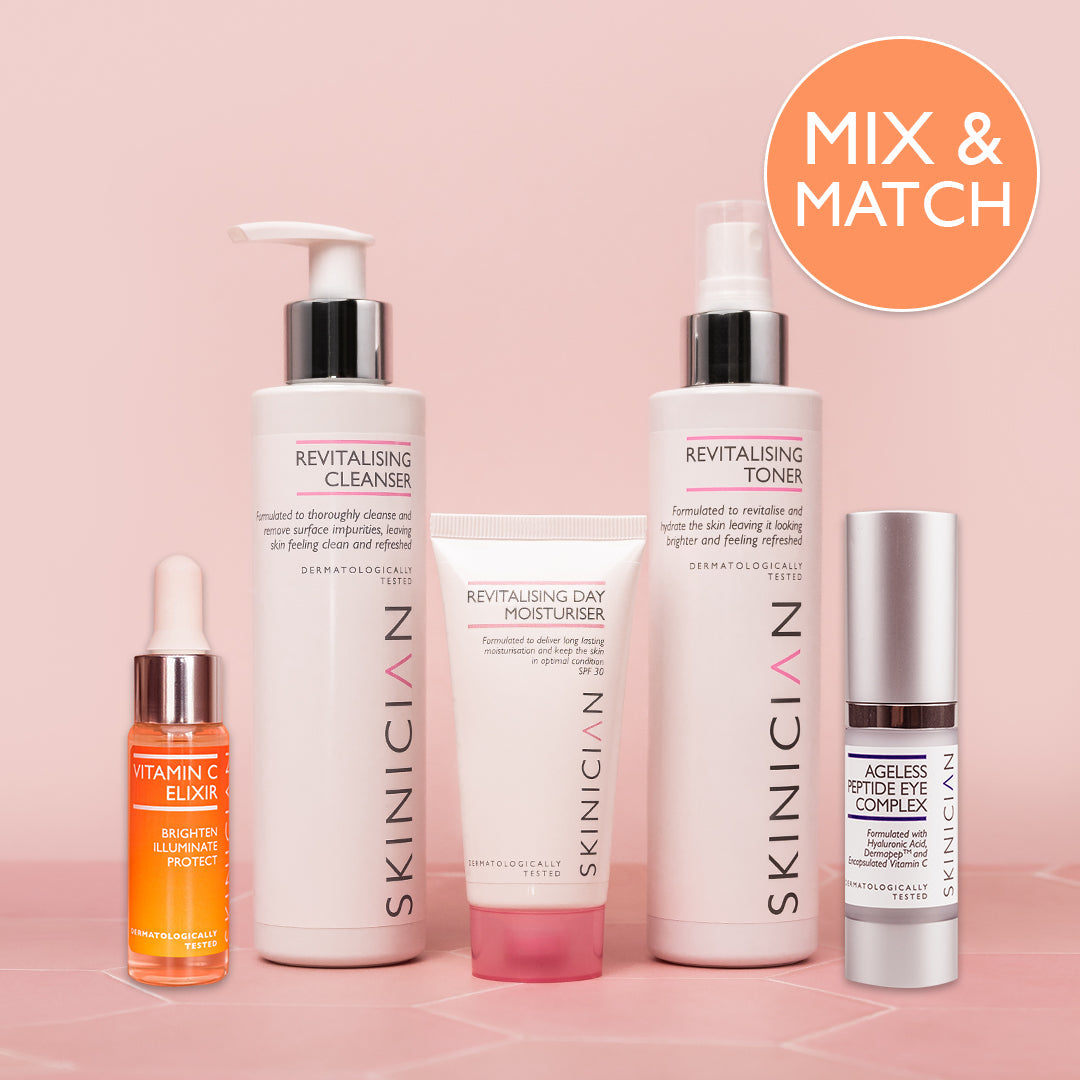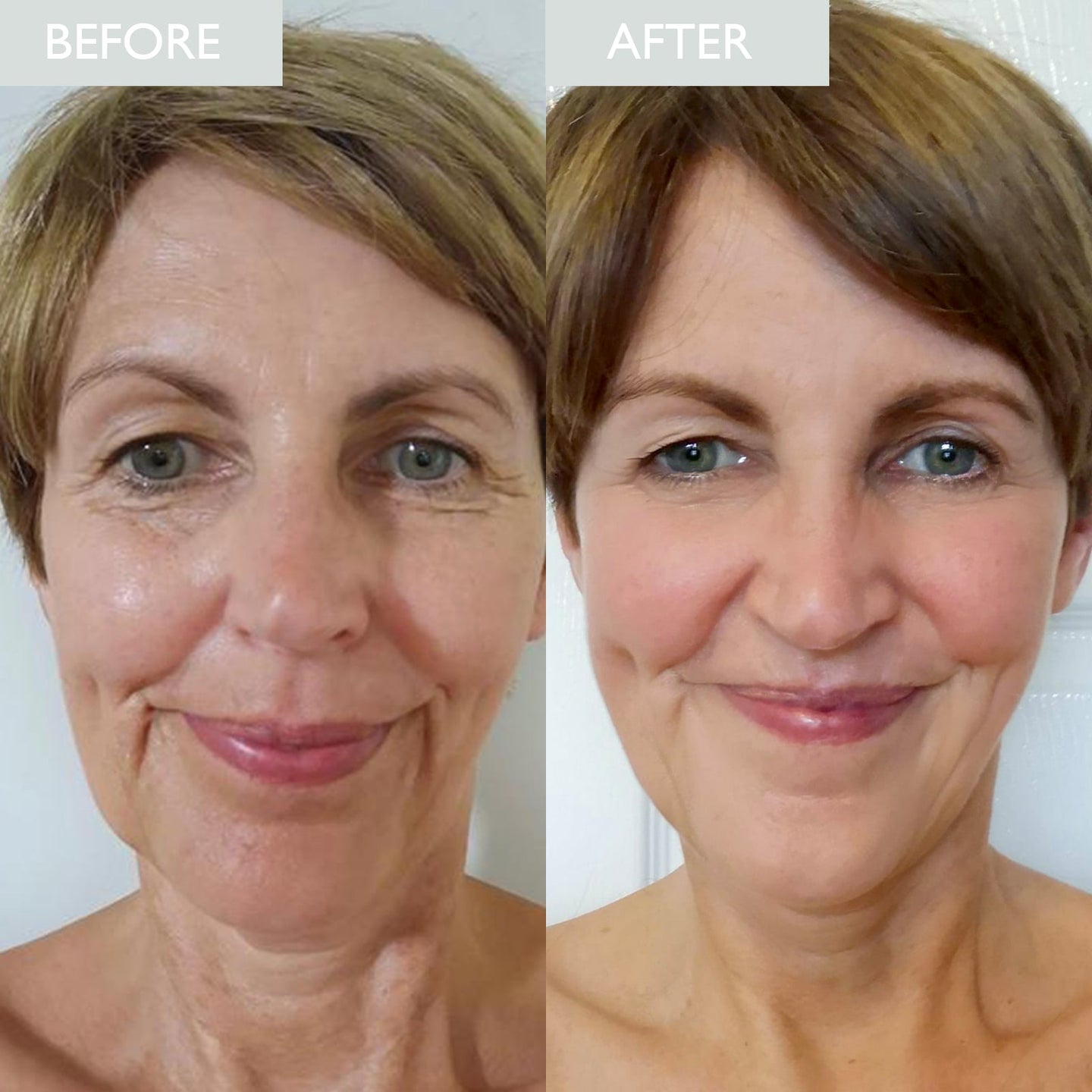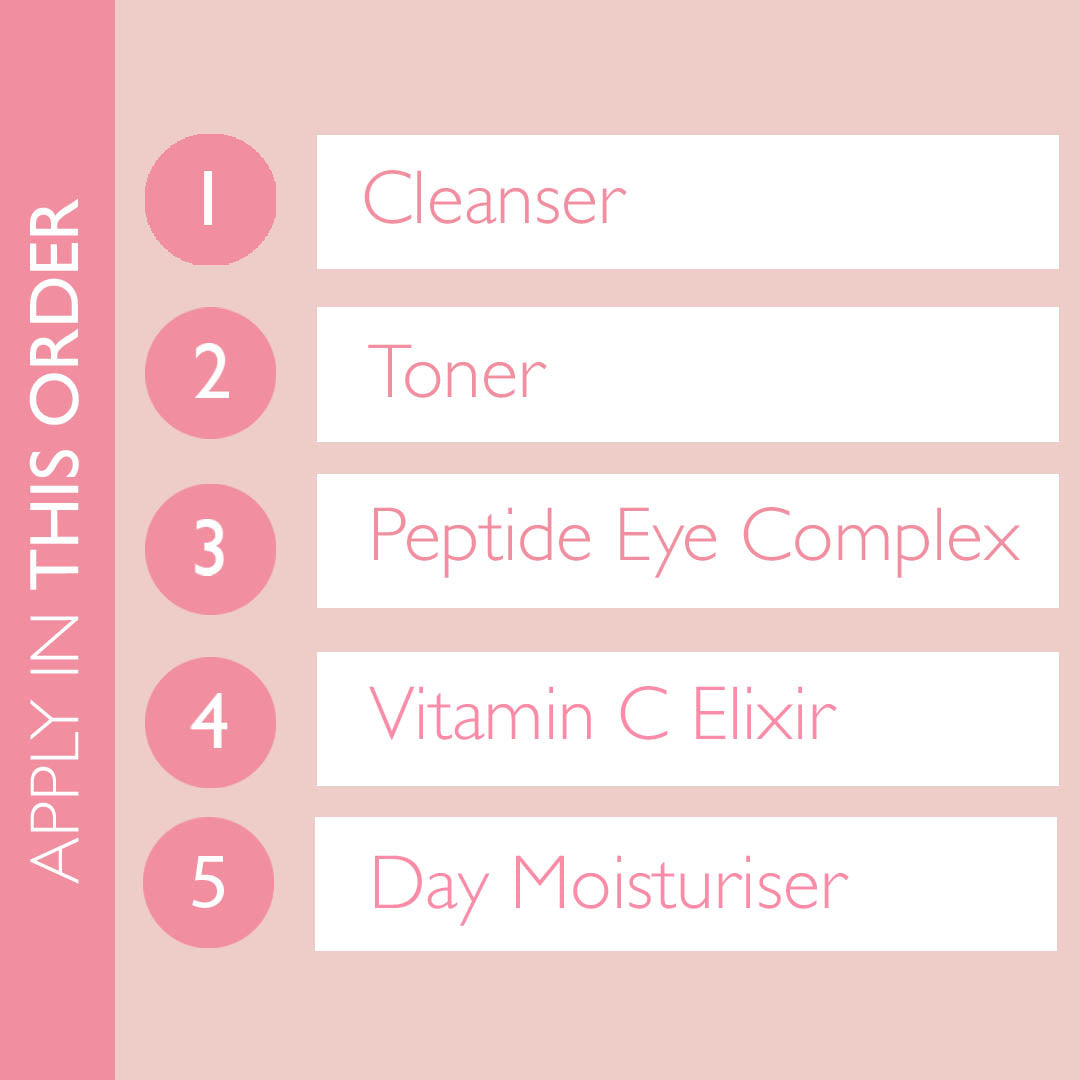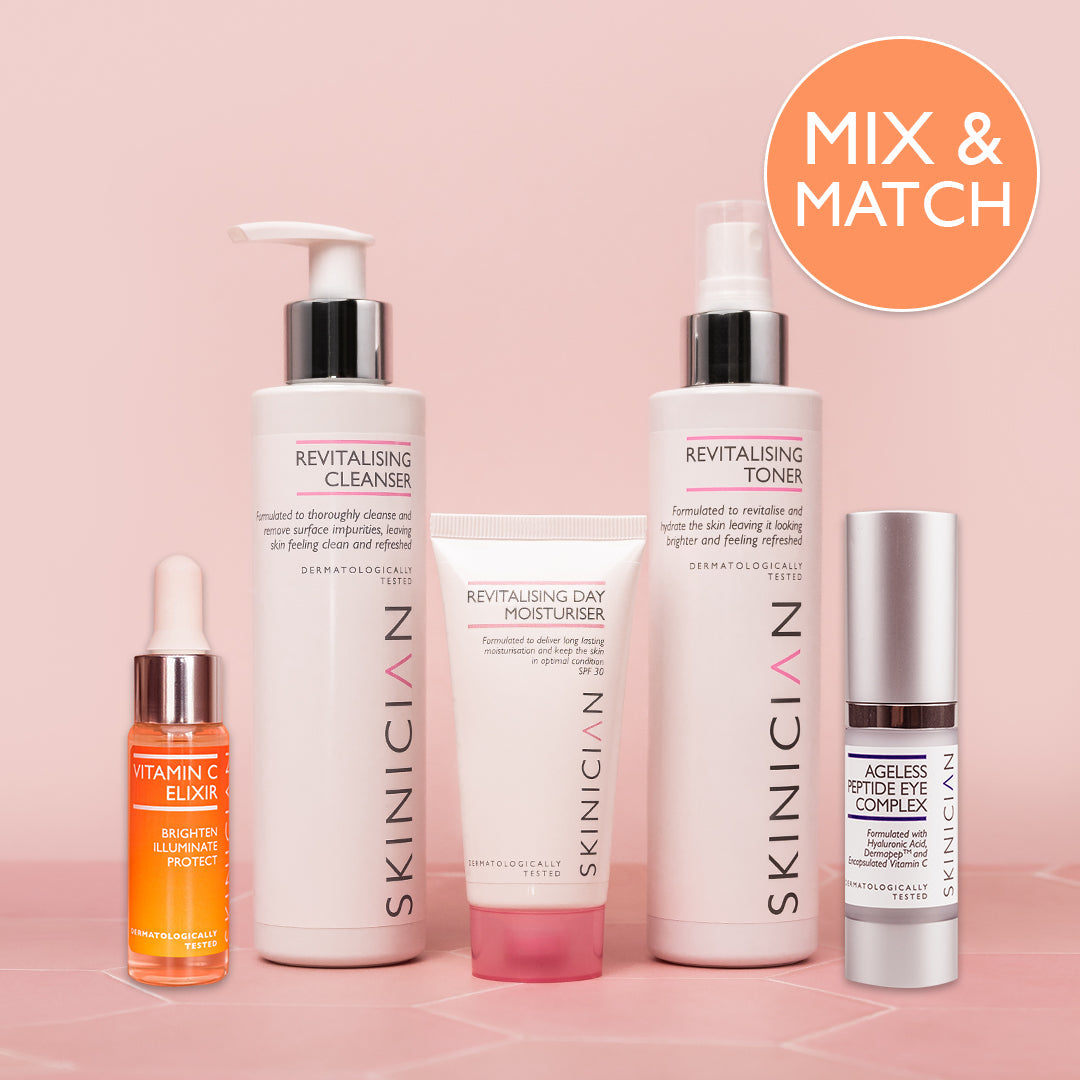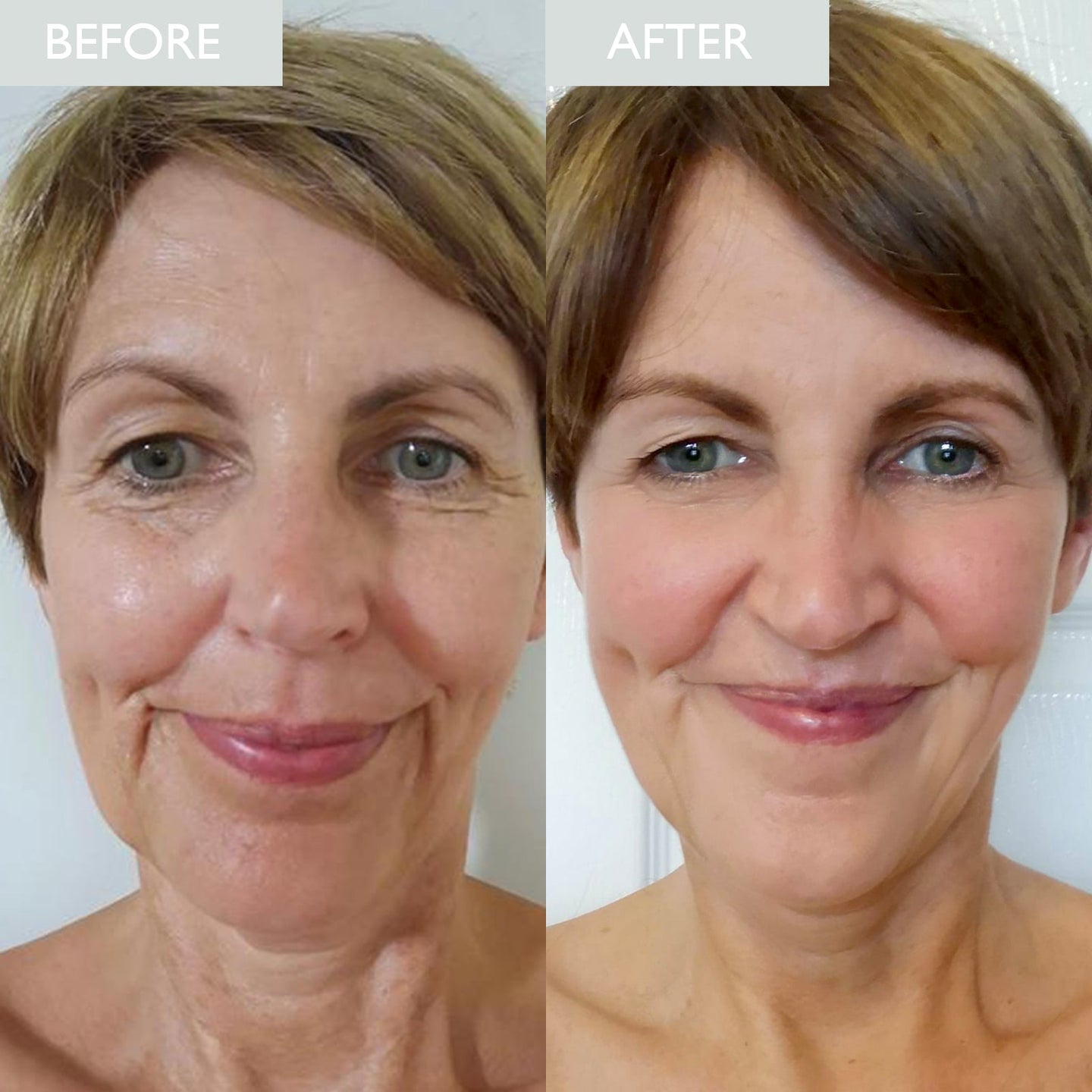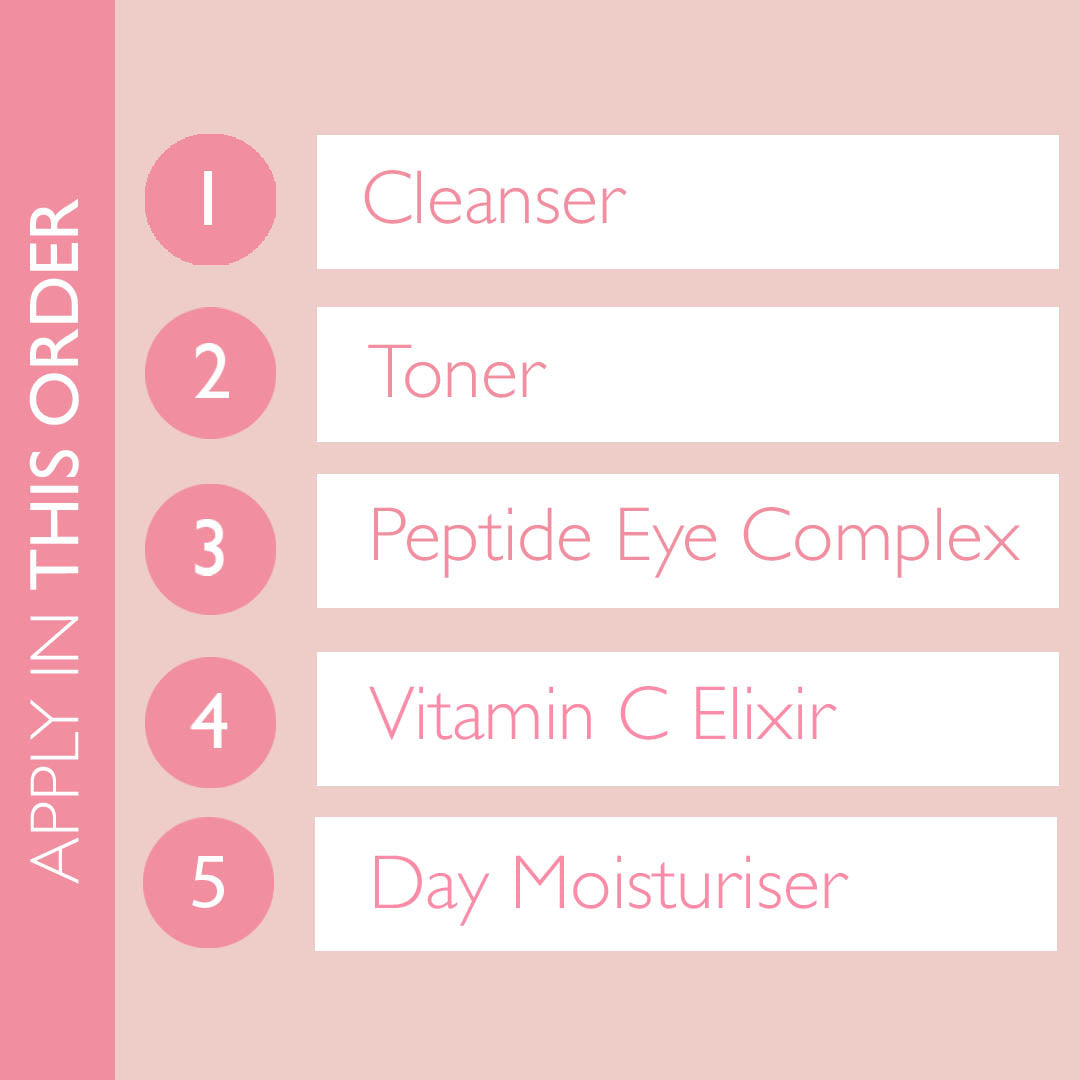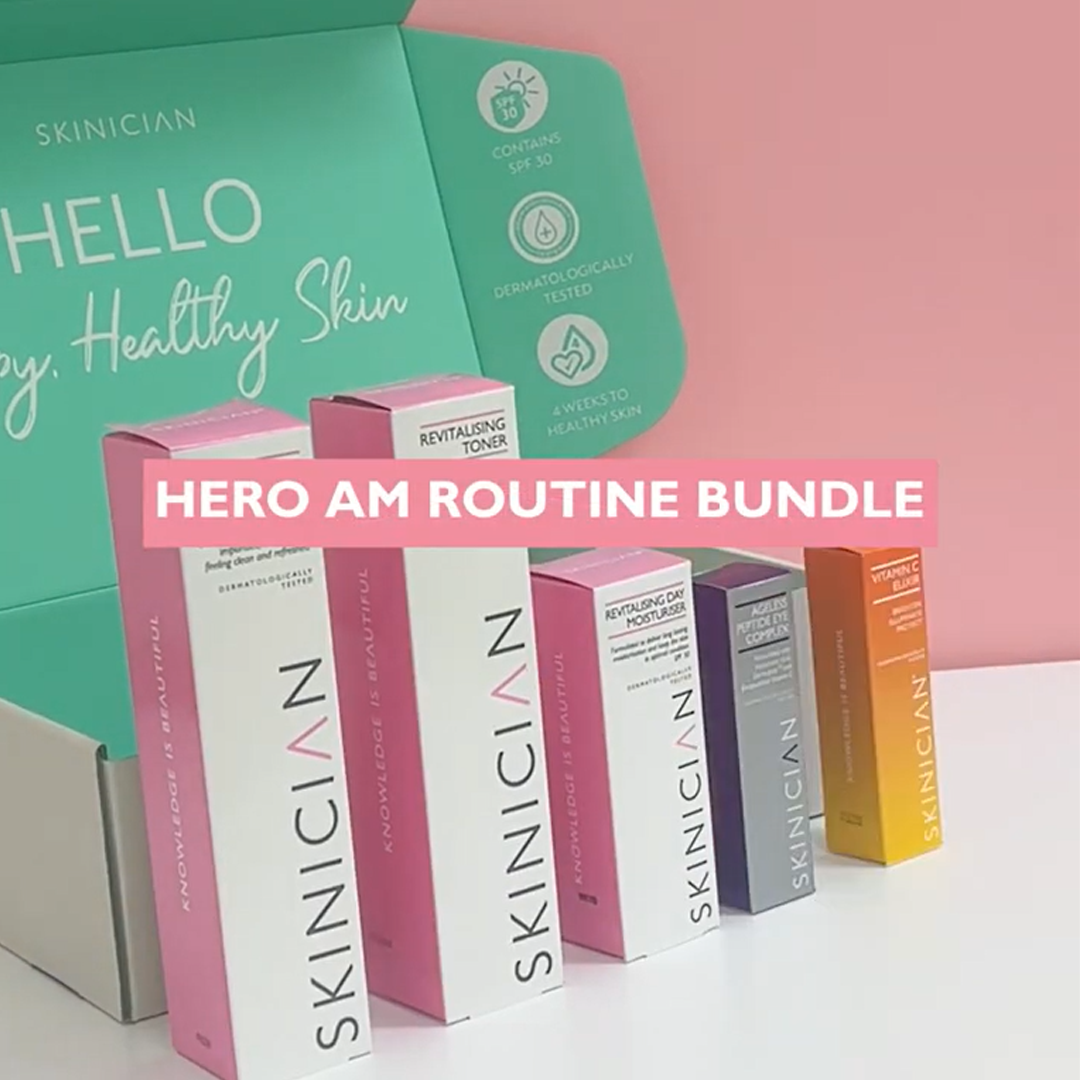 Hero AM Routine Bundle
Regular price
£114.75 GBP
Regular price
£167.00 GBP
Sale price
£114.75 GBP
Unit price
per
Save
Sold out
We know it isn't a one size fits all when it comes to skincare, so we have created our AM bundle that puts you in charge of picking the products for your skin type. Choose your cleanser, toner and Moisturizer with SPF for your skin type and start every day with Happy, Healthy Skin. 
In each bundle you'll get:

A choice of cleanser
A choice of toner
Peptide Eye Complex
Vitamin C Elixir
A choice of Day Moisturiser with SPF
We have created this bundle to give you the choice of picking the perfect AM products for your skincare routine.

Choice of cleanser
If you have dry, normal or sensitive skin we recommend choosing our Revitalising Cleanser as this gentle cream cleanser leaves the skin clean, hydrated and refreshed, with reduced sensitivity after use. 

If you have oily or breakout prone skin, then we advise choosing our Purifying Cleansing Gel as it works to reduce excess oil production and unclog pores – reducing the likelihood of breakouts and excess shine.

Choice of Toner
The next step in your AM routine should be a toner and again you have a choice to pick the one best suited to your skin type. Remember you can mix and match products, just because you use a certain cleanser doesn't mean you have to use the matching toner.

For those suffering with dry, sensitive or have a normal skin type, we recommend using our Revitalising Toner. This toner is infused with brightening Vitamin C, and works to improve skin hydration to leave your complexion calm and replenished. It has been proven to reduce sun damage, inflammation, and pigmentation.  

If you find yourself with oilier skin or are prone to breakouts, blackheads or acne, we recommend our Purifying Toner to soothe and refresh oily and acne-prone skin, while reducing breakouts, redness and excess oil. 

Peptide Eye Complex
Follow your cleansing and toning routine with our Peptide Eye Complex which is clinically proven to reduce fine lines and wrinkles by 12% and brighten the eye area leaving it looking hydrated and firmer.

Vitamin C Elixir
Our Vitamin C Elixir works to brighten, nourish and protect skin from free radicals and environmental aggressors. Vitamin C is proven to speed up collagen production and reduce signs of pigmentation leaving your skin with a more radiant glow.

Choice of Day Moisturiser
The last step in any AM routine should be SPF and we have created our moisturisers to include encapsulated SPF30. Choose from our Revitalising Day Moisturiser for those with dry, sensitive or normal skin, our Purifying Day Moisturiser for those who have oily or break out prone skin or our Time Delay Day Cream for those looking for a thicker cream or concerned with the signs of ageing.
Key ingredients:
Vitamin C
In just 21 days, our product has been clinically proven to reduce pigmentation and age spots, resulting in a brighter and more even skin tone. It also offers protection against cell damage caused by UVA and UVB rays, reducing such damage by over a third. Additionally, the product stimulates collagen production, which helps slow the ageing process of the skin.

Vitamin E
An antioxidant that protects skin from sun and pollution damage

DermaPep™
A peptide that mimics Retinol to refine pores and stimulate collagen and elastin production 
Cleansers
Apply to the face and neck, massage over the skin for 30 seconds.

Toner
Spritz the toner across the face in an arc shape

Peptide Eye Complex
Immediately after cleansing & toning, take a grain of rice size per eye and gently apply to under eye area, brow bone and crows feet using your ring finger.

Vitamin C Serum
Apply 2-3 drops and spread across the face, neck and chest area.

Day Moisturiser

Use as the final step in your skincare routine ensuring even application across face and neck. Allow to dry for 5 minutes before applying makeup.


Want to learn more? Check out our AM PM Skincare Routine page.
Who is this bundle for?
This AM bundle has been made fully customisable so you can choose the right combination of products for your personal skin concern so you can achieve Happy, Healthy skin.

Why is double cleansing my face important? 
Double cleansing is important for any skincare routine to maintain healthy skin. Your first cleanse removes dirt from the surface of the skin while the second cleanse will get to work to treat your skin.

What is the purpose of a toner?
There are some common misconceptions surrounding toners, including the beliefs that they remove cleanser residue, correct skin pH, and close pores. To clear up these misunderstandings, it's important to note that residue removal is only necessary if your cleanser contains occlusive ingredients that can't be rinsed away. Your cleanser should already be pH balanced to your skin, ideally between 4 and 6. Additionally, pores can't be opened or closed; they can only be dilated or constricted. At SKINICIAN, we prioritize easily washable and pH-balanced cleansers, allowing us to create toners that serve as standalone treatments.
Country
Delivery Information
UK & NI
Eco option - £3.95 (3-5 working days)
FREE on orders over £40
Priority - £4.95 (1-2 working days)
Republic of Ireland

€6.20 (1-2 working days)




FREE on orders over €40

Europe

£7.95 (7-10 working days)




FREE on orders over £100

Rest of World
£15 (15-20 working days)
FREE on orders over £150